Mobile World Congress: Nokia launches three new smartphones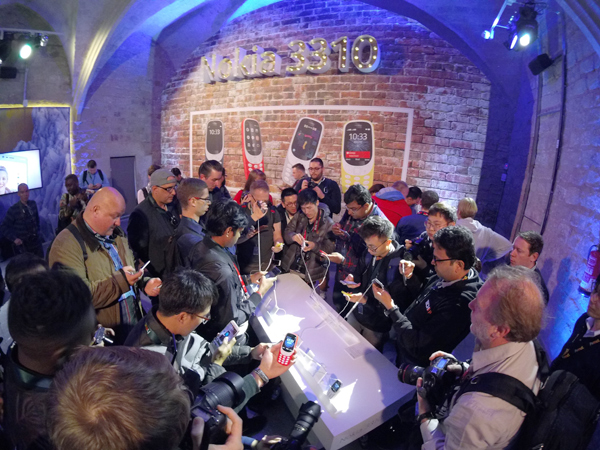 Journalists take photos at the hands-on zone of Nokia's product launch ceremony held in Barcelona, Spain, February 26, 2017. [Liu Zheng/chinadaily.com.cn]
HMD Global, the authorized manufacturer of Nokia brand, unveiled a new generation of Nokia smartphones on Sunday, marking the global launch of the brand's first android phones in the market.
Three new budget models, Nokia 3, Nokia 6, Nokia 5 and upgraded Nokia 3310, were all introduced one day ahead of the Mobile World Congress (MWC). More than 125 million Nokia 3310 units have been sold since the original version was first introduced in 2000.
All the models will start to be shipped this summer with price tag of about 1,500 yuan.
Arto Nummela, CEO of HMD Global, said: "Nokia has been one of the most iconic and recognizable phone brands globally for decades. In the short time since HMD was launched into the market, the reception we have had has been overwhelming."
According to Juho Sarvikas, chief product officer of HMD Global, the Nokia 6, unveiled last month by the Finnish startup to exclusively target Chinese consumers, has received positive feedback from the country.
"Ninety-five percent of our Chinese buyers on the online distribution partner JD.com, gave positive feedback," said Sarvikas. "Among the new users, three of four are young generations who have never purchased the brand before."
"The global launch that unveiled a series of new products, including a feature phone, shows Nokia's ambition to return to the handset market," said James Yan, research director at Counterpoint Technology Market Research. "It's obvious that by introducing the new budget models, the company is expecting promising shipping volumes."
But Yan expressed caution about the brand's business potential in China, where consumers are demanding high-profile products to replace their old phones.
"The newly launched Nokia 3310 will definitely focus on the emerging markets, such as India and many countries in Africa," said Yan.
Jamie Rosenberg, head of Android, was also invited on the stage during the event, hinted at Nokia's embrace of the Google-backed mobile software platform for the first time since it launched the first Windows Phone in 2011.