Red aiming to befriend women with sharing app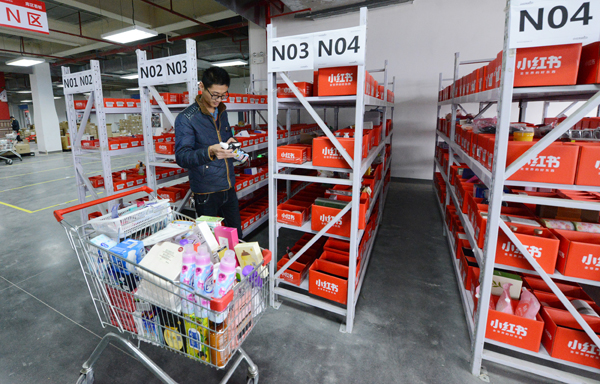 A staff member of Red sorts imported products at a bonded logistics center in Zhengzhou, Central China's Henan province, Nov 9, 2016. [Photo provided to China Daily]
Red is betting on a huge market where growing disposable income and freer-spending mindset among the millennials are pushing demand for high-quality, personalized products from abroad.
Retail has been one of the last globalization holdouts, but technology is giving consumers access to a world of products previously unavailable, said Vishal Bali, managing director of Nielsen China.
"Choice is enhanced by cross-border e-commerce. The growing middle-class is trading up and demanding a greater assortment not found at their domestic retailers," he said.
The platform will thus serve as a gateway to swapping fashion ideas and discovery and purchase of these products from overseas, Qu said.
"The likes of Red are riding on the surging waves of demand for imported goods as well as the prevalent social media usage in China, and the potential is huge," said Qi Xiaozhai, head of the Shanghai Society of Commercial Economy, a think-tank under the Shanghai Commission of Commerce.
Combining social networking with business is an area that even dominant e-commerce players covet. For instance, social commerce took the center stage at the annual sales gala in December at Alibaba's customer-to-customer site Taobao, where consumers shared and recommended products via virtual communities and webcasts.
The model works well. Boosted by word-of-mouth, Red has become the sole or the largest distribution channel for many brands in China including Japanese medical cosmetics maker Dr. CiLabo. For instance, anonline sales campaign for a skin toner that lasts only a few days could sometimes beat several months' worth of sales at physical counters.
Since their business benefits from the vast number of bloggers who post their findings, making friends with users has become a motto held by Red employees. They organize monthly afternoon tea parties with selected users, asking for feedback and suggestions.
It analyzes user data to determine what will sell. It then approach brands and have the merchandise imported to its warehouses in Shenzhen and Zhengzhou.
The goal of Red is to resonate with the ongoing consumption upgrade across China, where people have turned from "show-off consumption" to "quality consumption", Qu noted.
"Lavish purchasing of designer bags and high-end jewelry marked the past. We see rocketing demand for daily items, from toothpaste, shampoo to masks and hand creams. Improving the quality of life is the priority," she said.
While most of their users are concentrated in the wealthier costal areas of China, Qu is confident it's only a matter of time for the brand to penetrate the rest of the country.
"We have users in Xinjiang Uygur and Tibet autonomous regions. We offer good stuff made worldwide, I am sure our users will come to find us," she said.