Red aiming to befriend women with sharing app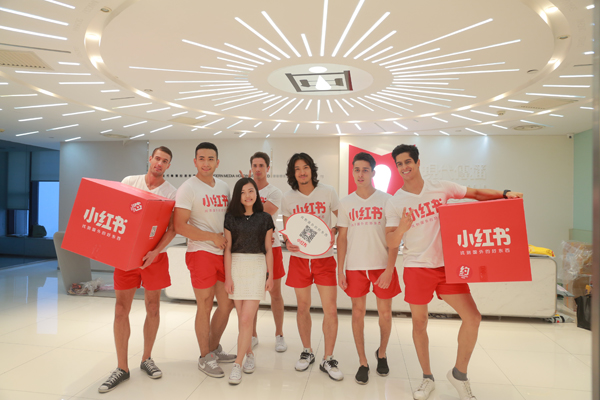 A female user of Red (Xiao Hongshu) poses with the company's staff at its anniversary celebration in Shanghai. [Photo provided to China Daily]
Outlook resonates with consumers' rising demand for quality everyday products
A crowded Macy's mall in downtown New York is where Qu Fang first met her business partner Mao Wenchao 11 years ago.
Back then e-commerce was still a novelty in China, and there weren't many Chinese traveling and buying overseas. Nostalgia propelled them to chat as both were shopping for products unavailable in China for friends and family.
The encounter finally led the pair to co-found the e-commerce site Red (or Xiao Hongshu in Chinese, meaning 'little red book') in 2013, which serves an online community of foreign brand fans.
"In starting a business, the scenario in which you met your partners and form your ideas really matters," Qu said in her office in Xintiandi, a posh bar area with restored stone-arched houses in downtown Shanghai.
Red is far from the only digital player focusing on the sales of high-quality foreign merchandise in China. E-commerce juggernauts like Alibaba Group Holding Ltd and JD.com.Inc have long had a footprint and pushed hard on imported goods. But Red plans to set itself apart with a special focus on community and user sharing.
It works by letting its users-65 percent or more of them are young and well-educated women-post pictures of their beloved products online. It then connects them with overseas sellers of everything from anti-aging masks to FolliFollie watches.
No financial incentives are given to those who share, but Red has become an incubator of word-of-mouth marketing.
"Sharing is an inherent trait in women. Those who buy things here are vocal opinion leaders, and many promote our platform on a voluntary basis," Qu said.
The three-year old app has gained traction in China with 32 million registered users by the end of 2016. Red did not disclose financial details, but it has become the latest darling for venture capital firms, attracting investment from GGV Capital, Zhen Fund, and potentially Tencent Holdings Ltd, according to Bloomberg data.