Dances with apps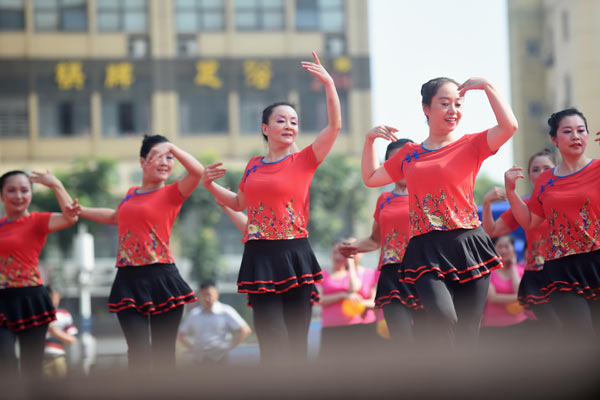 A group of square dancers compete in a local sports dancing contest in Hefei, Anhui province.[Photo by Xie Chen/For China Daily]
Imaginative apps, launched by innovative startups and funded by forward-thinking private equity outfits and venture capital firms, are imparting a new spring to the steps of millions of middle-aged women in China.
Literally, that is.
Chu Qinqin, 55, a denizen of Kunshan, Jiangsu province, is one such woman. A late convert to the digital world and online social networking, Chu has taken to square dancing-Guangchang Wu in Chinese-like a duck would to water, thanks to an app called Tangdou Square Dance that offers dance tutorials.
The Beijing-based startup Tangdou, and apps of its ilk, have proven to be runaway hits-both with users and investors. So far, tens of millions of dollars have been poured into such apps.
Startup Tangdou claims it has more than 2.5 million daily active users and nearly 40 million monthly active users.
At the end of November, Tangdou announced that its latest round of financing netted $5 million, taking the overall pickings to $25 million.
Tangdou's new competitor 99 Square Dance said it has received $5 million in its first round of funding.
Such high numbers could well be related to the fact that Monday, Thursday and Saturday evenings are dance tutorial time for Chu and several of her friends, a group of about 100 determined to extract as much fun, joy and physical exercise as possible from their hitherto sedentary lifestyle.
Women such as Chu spend hours on dance apps, learning various steps, waiting eagerly for app updates and new features.
For dance tutorial apps, that would translate to eyeballs. And for digital advertisers, eyeballs are eye candy, pregnant with delicious e-commerce potential.
Investors love to fund such ventures. In this age of WeChat, Baidu, Didi and Alibaba, killer apps' valuations could rise exponentially to billions of dollars before you could finish dancing the steps to "One, two, cha cha cha".
The dance apps' stickiness comes from many factors. For instance, Chu and her group learn new steps, stage a mock performance complete with thumping beats and a bright, attractive background, record and edit the event, then upload the video on to the app.
Such videos generate views from peers-and digital likes, praises, thumbs ups, flowers. The more the "like" emojis, the better the likes of Chu would feel. In the world of Chinese middle-aged women, the new pop stars are people such as Chu.
"I feel like I'm getting younger. I've made new friends all over the nation. I find learning to dance, and editing my own videos, very interesting and exciting."
Talking of videos, Tangdou, incidentally, started as video-sharing website. But, in 2015, seeing the boom in mobile internet, the startup's founders launched the Tangdou Square Dance app as a natural extension of the website.
Now, 90 percent of the app's viewers access the content using handheld devices like smartphones and tablets.