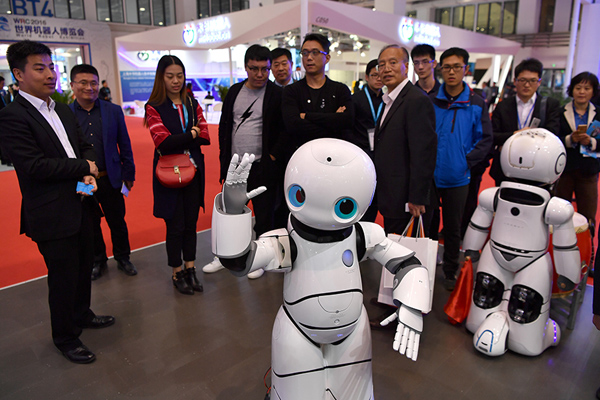 Visitors watch robots for business uses during the 2016 World Robot Conference in Beijing, Oct 20, 2016. [Photo/Xinhua]
2. In a recent published report by the White House entitled "National Artificial Intelligence Research and Development Strategic Plan", China was described as a nation that had overtaken the US in terms of the number of journal articles that mentioned "deep learning" or "deep neural network", which were core subjects in the AI R&D development process. How do you see the role that China plays in the world's AI industry?
Yu Kai said that during the global AI boom, labor reservation, capital concern and market potentials will help the country to stand out in the industry.
He has called for the country to continually strengthen abilities through talent education, technology breakthroughs and innovation, and he hopes to see more support from the government to replenish laws and regulators and enhance the supplementary investments in the sector.
Hu Yu pointed out that the "mass entrepreneurship and innovation" initiated by the government would effectively stimulate the future development of China's AI industry.
3. Google's chief futurist Ray Kurzweil believes that machines could become "conscious" by 2029 and AI will overtake human beings' intelligence by 2045. What are your comments in regard to the expectation?
"I (am) not worried about it. Although the existing robots are not as intelligent as the they are presented in science fictions, some of their characters, such as calculus or weight-carry abilities, have already overtaken the physiological limit of human beings," said Yu Kai.
Yu also said the limitations of robots were obvious. "Will they be able to create self-consciousness or even think independently? I think for the missions that require imagination, creativity or analysis and induction, robots will not be able to handle the works."
Li Shipeng said that the intelligence of robots would not surpass human beings but if we continually improve robots' abilities without any boundaries, the machines will surprise us in the future. For example, if you authorize a robot to fully access into all of your home appliances or even the traffic lights control hub of a city, it reserves potential safety threats.
"On one hand, robot acquires intelligence from human beings, but on the other hand, it is important for people to foresee robots' activities," said Li.