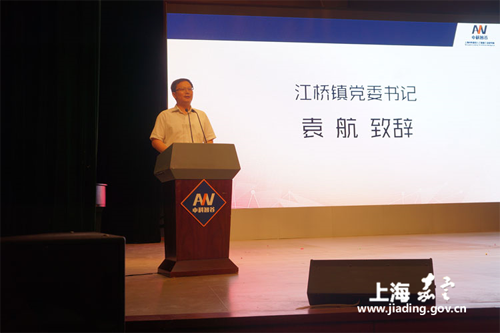 Yuan Hang, Party chief of Jiangqiao town, Jiading, Shanghai, attends the forum on artificial intelligence on July 4. [Photo/jiading.gov.cn]
A forum on artificial intelligence opened in Jiangqiao town of Jiading district, Shanghai on July 4, with the participation of government leaders, experts and scholars, local media reported.
The day also witnessed the founding of the Shanghai Academy of Artificial Intelligence (AIV), co-organizer of the forum with the Chinese Intelligent Hardware Association and the North Hongqiao Innovation and Entrepreneurship Service Center.
Yuan Hang, Party chief of Jiangqiao town, attended the forum and hoped that AIV's settling in the town would help attract and nurture more artificial intelligence enterprises, making the town a core region in that industry in Shanghai.
Jiangqiao has already put AI technology into use. For instance, an intelligent voice system is being used to serve residents at a local community service center.
Jiangqiao, aspiring to boost its AI sector, vows to create a better environment for artificial intelligence development by providing greater financial support and more talented personnel.