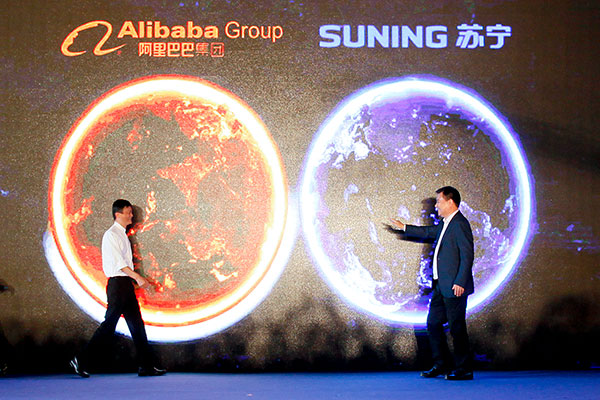 Chairman of Alibaba Jack Ma (left) and Zhang Jindong, founder of retailer Suning, at the pressconference in Nanjing, capital of Jiangsu province, after the two companies reached a deal onMonday. [Photo/China Daily]
Chinese e-commerce giant Alibaba Group Holding Ltd and retail giant Suning Commerce Group Co plan to invest 1 billion yuan ($148 million) to set up an e-commerce firm in Chongqing, a move that is likely to intensify their competition with JD.com Inc, China's second-largest e-commerce player.
Suning will invest 510 million yuan, gaining a 51 percent stake in the new joint venture, while Alibaba will pay 490 million yuan, owning a 49 percent stake, according to a statement issued by Suning on Tuesday evening.
The business scope of the new e-commerce firm covers services, wholesale and retail, and technological development and consulting.
The joint venture will operate and manage the stores opened by Suning on Alibaba's online platform, expand business based on the customer-to-business model to improve the brand's services and their quick response to consumers' requests, as well as innovate the online-to-offline operating model to improve the service quality for small-and medium-retailers and consumers, the statement said.
Suning said the two sides had deepened strategic cooperation, and synergized their resources in users, platform, goods, services and technology on the basis of keeping the independence of their businesses.
Alibaba's online platform Taobao has acquired 1.861 billion shares from Suning for 28.2 billion yuan in June, making it the second-biggest shareholder of the country's largest home appliances retailer with a stake of just under 20 percent.
The new joint venture is expected to bring better synergy between two companies, combining Alibaba's online retailing assets with Suning's physical stores and distribution facilities to make buying consumer electronics and home appliances easier for consumers, analysts said.
Mo Daiqing, a researcher with the China E-Commerce Research Center in Hangzhou, said that Alibaba had already carried out some business cooperation after forming their alliance in 2015, with Suning opening a store on Alibaba's online platform.
Lu Zhenwang, chief executive officer of Shanghai-based Wanqing Consultancy, the joint venture is also expected to serve as a pilot project for Alibaba to explore new ways to help traditional brands transform in the digital era.
Contact the writers at fanfeifei@chinadaily.com.cn and mengjing@chinadaily.com.cn