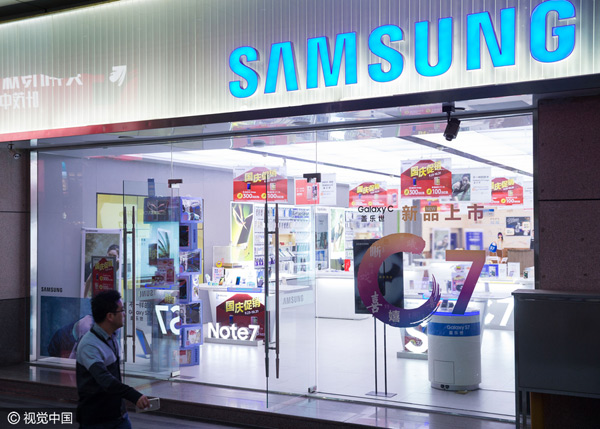 A man passes by a Samsung's store in Nanjing, East China's Jiangsu province, Oct 10, 2016. [Photo/VCG]
China's product quality watchdog said on Tuesday that Samsung Electronics Co Ltd's local unit will recall all 190,984 Galaxy Note 7 phones that it has sold in China.
The latest recall in China includes the 1,858 early-release Galaxy Note 7 smartphones that the watchdog recalled on September 14.
Samsung said earlier Tuesday that it had decided to stop selling Note 7 phones in China and is now communicating with Chinese authority to deal with this matter.
The tech giant has decided to temporarily halt the global sales and exchange of its Galaxy Note 7 smartphones, while it investigates reports of fires in the devices.
Samsung said in a statement that consumers with either an original Galaxy Note 7 or replacement Galaxy Note 7 device should power down and stop using the device and take advantage of the remedies available.