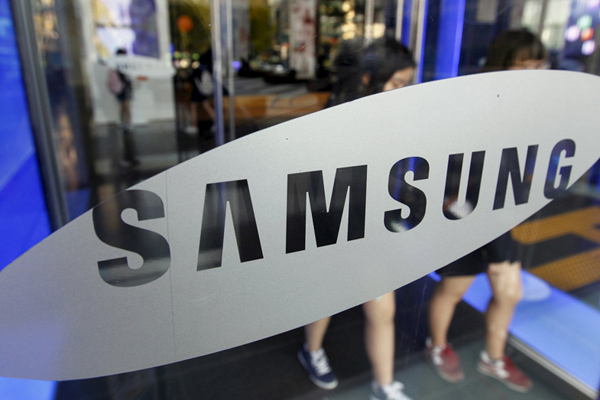 Students walk out of a showroom at the headquarters of Samsung Electronics in Seoul on Oct 28, 2011. [Photo/VCG]
SEOUL - Samsung Electronics Co has temporarily halted the production of its fire-prone Galaxy Note 7 smartphones as fire cases were reported even with replacement phones, Yonhap news agency reported on Monday citing an official of Samsung's subcontractor.
The unidentified official was quoted as saying the production of replacement phones will be suspended in Vietnamese factories that have responsibility for the production of Note 7 phones to be shipped globally.
The official said he heard that the decision was made in consideration of the safety of global consumers in the United States as well as in China and South Korea after consulting with regulatory authorities of the three countries.
The suspension came as several cases of catching fire were reported even with replacement devices. According to media reports, eight cases were reported, including five in the United States, one in South Korea, one in China and one in China's Taiwan.
Samsung announced its global recall plan in early September, and started later last month to provide replacement phones equipped with new batteries. Faulty battery cells allegedly caused fire from the initial version of Note 7 phones.
If confirmed, the production halt would delay the resumption of Note 7 sales and the replacement process that could increase damages to Samsung's brand image and earnings.
According to preliminary figures unveiled by Samsung last week, the company's third-quarter revenue was 49 trillion won ($44 billion), down 5.19 percent from a year earlier. From the previous quarter, the revenue declined 3.81 percent.
It is estimated that Samsung suffered about 1 trillion won in losses from the Note 7 recall, but the exact figure would be announced later this month after an external audit.
The South Korean tech behemoth posted 7.8 trillion won in operating profit during the July-September period, up 5.55 percent from the same period of last year.
It was down 4.18 percent from 8.14 trillion won tallied in the previous quarter, which was the largest in more than two years.