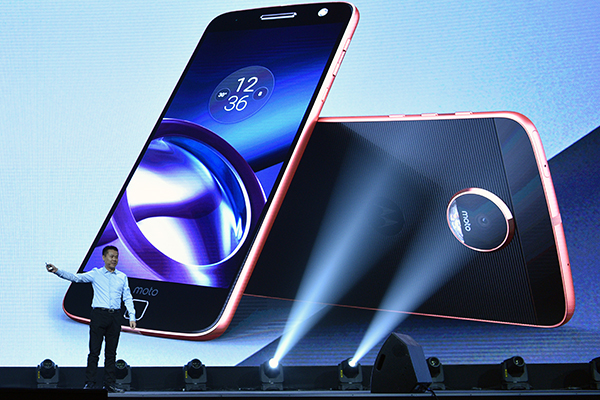 Chen Xudong, senior vice-president in charge of Lenovo's mobile business group, introduces the company's Moto Z series mobile phones in Beijing, on Sept 6, 2016. [Photo provided to China Daily]
Lenovo Group Ltd launched its flagship Moto Z series modular handset on Tuesday in Beijing, to compete with Apple Inc and Samsung Electronics Co Ltd in the premium-end market.
The modular smartphone, which is only 5.2 mm thick, has high-powered magnets on its rear with which users can fasten additional equipment, including a Hasselblad camera, an extra battery, speaker, projector and phone shell.
"Moto Z undoubtedly will lead the industry change and redefine the smartphone product, which is also the most representative device after Lenovo acquired Motorola Mobility," said Yang Yuanqing, Lenovo chairman and CEO.
Yang added the smartphone products now lack innovative abilities, and they look and operate just the same as they have for many years.
"The concept and design of the modular smartphone involves more functions and applications and expands the development space for smartphones."
Lenovo has made great efforts to launch differentiated and innovative products to boost handset sales. In June, it unveiled Phab2 Pro in the United States, the world's first smartphone to host argumented reality applications, based on Google Inc's Tango project.
Chen Xudong, senior vice-president in charge of Lenovo's mobile business group, said the company will speed up efforts in building more offline channels.
James Yan, research director at Counterpoint Technology Market Research, told China Daily: "The modular phone is a special and innovative product, but it won't trigger huge market demand, which is determined by whether the consumers could afford, and use in a convenient, simple and fast way. However, it is not satisfactory in this aspect."
Yan added the modular phone will help Lenovo expand in the North America market, but it is still at an initial stage in China. "The competition among the three major players, including Apple, Samsung and Lenovo, is focused on the United States."
Samsung launched its latest big-screen smartphone the Galaxy Note 7 with a curved screen and iris-recognition technology last month, with an expectation to extend its lead over Apple Inc in the global smartphone market.
However, it said last Friday that it decided to cease sales and recall all Note 7s sold worldwide due to some of the gadgets being found to have fault in its battery after it allegedly exploded in some devices.
Apple is expected to launch its revamped iPhones on Sept 7. Jason Low, tech industry expert at Canalys, said: "Users may spend money adding extra batteries that could be fastened to the modular smartphone, but they would have second thoughts when buying the camera as it is very expensive."
Ma Si contributed to this story