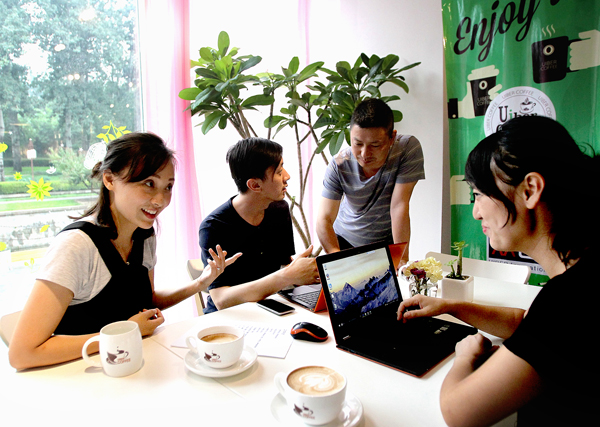 Startup entrepreneurs brainstorm at the Uiber Coffee, a crowdfunded venture of Uiber Innovation, in Beijing. ZHANG WEI / CHINA DAILY
Beijing-based university backs student-led F&B startup that is also a business incubator
China's focus on entrepreneurship is gaining momentum at universities, with students now founding an innovative food-and-beverage startup that is multipurpose in its scope.
The Beijing-based University of International Business and Economics has launched a startup accelerator.
Called Uiber Innovation, its first venture is Uiber Coffee, a crowd-funded plush cafe in the mold of Starbucks. A stone's throw from the UIBE campus, the cafe was soft-launched on Aug 13.
But Doris Li, operations manager of Uiber Coffee, calls it a startup incubator mainly aimed at UIBE students and alumni.
Founded by executive as well as regular MBA students of UIBE, the startup has already generated 2 million yuan ($300,000) in seed capital, Li said.
The first cafe is expected to help and coach more than 1,000 young people, and break even in one to two years, which could spawn a chain of cafe-cum-incubators in areas where UIBE students and alumni work and live "nationwide" and "even worldwide as they are settled across the globe", Li said.
The UIBE alumni association has already committed to using the cafe as its regular meeting hall. The business school of UIBE has created crash courses in innovation and entrepreneurship for the cafe's customers, Li said.
In addition, free mentoring will be on offer. UIBE professors would double up as part-time mentors. "Our key goal is to offer a serene atmosphere and infrastructure for tomorrow's entrepreneurs to meet, brainstorm, develop ideas, make pitches and presentations to prospective investors," Li said.
Uiber Coffee's first cafe is located amid the picturesque canal-side overlooking the Yuan Dynasty City Wall Relics Park in Chaoyang district so that "UIBE students could simply drop by after classes or make prior appointments for startup-related activities".
Besides food and beverage sales, revenue would flow from nominal rent for on-site workspace. Uiber Coffee would also pick up stakes in startups conceived and shaped on its premises, in exchange for services like counseling, lectures, financial advice, incubation and links to equity investors.
Wang Jian, founder of the Peking University Entrepreneurs Training Camp, said: "Inadequate infrastructure and lack of practical business experience are holding back student entrepreneurs. Ventures that can provide these will prove useful and timely."
Mahdi Ebrahimi, UIBE alumnus and an Iranian entrepreneur, agreed: "How I wish our MBA class of 2012 had similar support systems like Uiber Innovation. Startup programs at universities can help bring students, mentors and investors together."
Uiber Innovation is planning to incubate more than 100 startups every year. Subsidiaries with a focus on niche startups, entrepreneur education, new media and startup investment are conceivable, Li said.