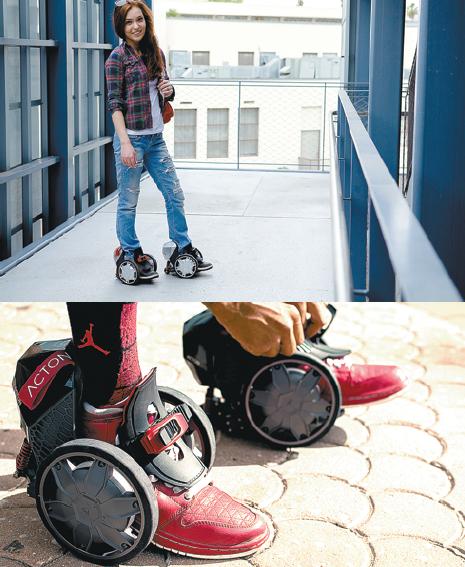 RocketSkates on the flat shoes.[Provided to China Daily]
So far, the wearables industry has been going to town with wrist devices like health bands and smart watches. But ACTON Inc, a California-based startup, led by a Chinese-American entrepreneur, has developed electric R RocketSkates leveraging China's manufacturing prowess.
The four-year-old company believes the new wearables, powered by lithium batteries, are perfect for trips that are too close to drive and too far to walk.
"Strap the RocketSkates onto your flat shoes and you will be able to float down the street at 16 kilometers per hour," said Janelle Wang, ACTON's CEO and co-founder, in a telephone interview.
"On a full charge, the skates can operate for an estimated 90 minutes. I think they are quite good for college campuses and urban environments when there is not much traffic."
ACTON has started selling the smart footwear in dozens of countries in Europe, Asia and North America.
The electric skates are produced by Chinese manufacturers in Changzhou, Jiangsu province.
"Changzhou is a traditional production base for vehicles like motorcycles and electric bikes. Its supply chain ecosystem is helpful to bring the innovative product into mass production," Wang said.
RocketSkates are the brainchild of Peter Treadway, chief technology officer and co-founder of ACTON. He designed the prototype while working on his thesis at the Art Center College of Design in California, one of the world's most renowned design schools.
To turn the wild idea into reality, Treadway and his team developed a patented technology so that consumers could pilot electric devices simply by shifting their weight, without worrying about two skates running at different speeds.
Tilt the skate forward to accelerate and backward to slow down-as simple as that.
"Each skate is equipped with motion sensors and microprocessors, which allow them to 'talk' with each other so as to maintain the same speed and performance," Wang said. "This patent makes it difficult for other companies to copy our products."
ACTON has also developed an app using which riders can track their route, performance, and battery power, and compete with friends.
The skates are part of broad efforts by the American startup to expand its presence in China, which not only hosts its manufacturing base but is a huge market.
"The China market is different from other countries. Consumers here are more price-sensitive than their Western counterparts. They want best-performing products at lowest prices," Wang said.
Currently, different versions of the skates retail for 3,999 yuan ($625) to 4,999 yuan ($781). Wang said they were well-received among early Chinese buyers.
In June, the company launched a crowdfunding project for RocketSkates on hi.taobao.com, a platform owned by Alibaba Group Holdings Ltd. Within 48 hours, that campaign generated 1 million yuan ($156, 300).
"Next year, we will expand our workforce in China to around 50 employees, many of whom will be local technology staff. We want to develop China-focused products to cater to more local consumers," she said. "In the long term, China is a big market and we have tons of unmet demand to tap in."
ACTON now has 20-odd staff in China, about two-thirds of its total workforce. Most of them run Acton's subsidiary in Changzhou where workers check each and every item before shipping it to consumers all over the world.
"Thanks to strong sales in Western markets, we are generating steady profits that are not only enough to cover daily operations but can support our research in new products," Wang said. She, however, declined to share any financial figures.
ACTON is slated to release a new electric skateboard this month and unveil another new product at the famed annual International Consumer Electronics Show in Las Vegas next year.
One gray area is whether the skates, being devices for personal transport, could be classified as vehicles, which require licensing and other legal documentation. Dozens of Chinese cities, including Beijing and Shanghai, have banned the use of smart equipment for personal transport on streets due to security concerns.
Wang Qiang, an enthusiast in cutting-edge tech gadgets, said, "The design of RocketSkates looks quite cool. I am eager to try them on. But they won't be worth my money if I can wear them only at home."