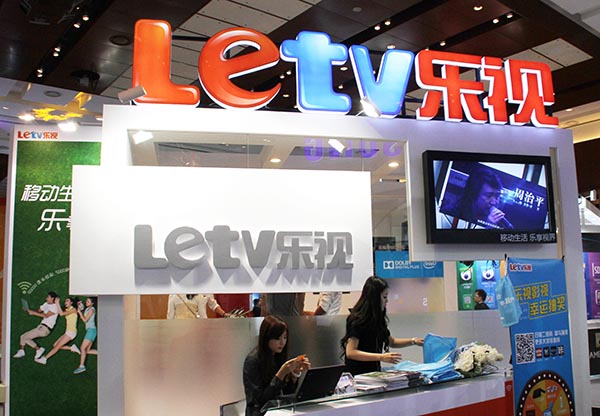 LeTV Holdings Co Ltd's stand at an international mobile Internet conference in Beijing. The company said it is targeting at least 10 million handset sales in 2016. [Photo/China Daily]
LeTV Holdings Co Ltd, the biggest online video company in the Chinese mainland, introduced six new smart TV products in Hong Kong on Thursday.
Based on the Le Ecosystem, the newly launched third generation of super TV sets, in two major series and three flagship models, are all priced lower than the hardware costs, said Liang Jun, president of Le Shi Zhi Xin, the TV business arm of LeTV.
"The reason pricing is below the cost of mass production is that the multi-dimensional and multi-level eco-profit model subsidizes hardware sales, marking the maturation of Le Ecosystem", Liang said.
"The self-incubation, self-evolution, self-innovation, self-cycling ability of Le Ecosystem is more powerful, continuing to create new customer value", Liang added.
LeTV Super TV 3 Max 65, the first Eco TV in China, runs on the Android 5-based EUI 5.5 TV operating system. It is equipped with a 120GHz 65-inch, ultra-high definition 4K screen of LG Display and 3GB of RAM.
With screen size ranging from 40 to 65 inches the price of the six products varies from 1,699 yuan ($266.57) to 8,499 yuan.
"To solve the problems of O2O being a solely e-commerce model and turn the competition between online, offline and third party into a win-win outcome, the new products will be sold exactly at the same price via different channels", Liang said.
To facilitate the global sales of LeTV eco-products, LeTV also announced it's upgrading its online shop, LeMall, and launching the international domain name.
The new products will be available on Sept 29 in the Chinese mainland, in late October in Hong Kong and the fourth quarter in the United States.
Mo Cuitian, LeTV's vice president and Asia Pacific executive president, also rolled out a member subscription plan for LeTV Box 4K for Hong Kong users at the press conference, showing the company's ambition in the city's pay-television industry in the next two years.
Earlier this week, LeTV Sports announced that LeTV Sports Hong Kong will replace Pacific Century CyberWorks (PCCW) to broadcast soccer's English Premier League in Hong Kong from the 2016-2017 season.
LeTV Sports Hong Kong also promises 4K video quality standard live broadcasting via its various terminals and commentaries in English, Cantonese and Mandarin.