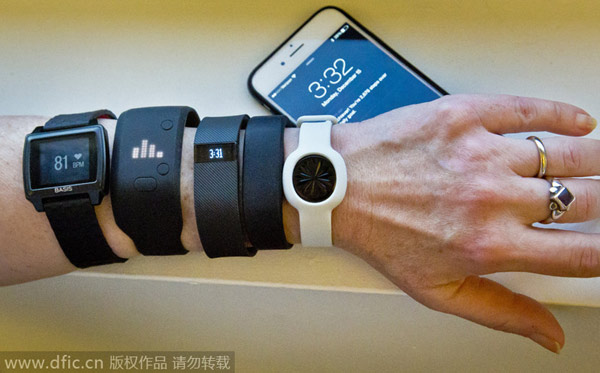 A man wears several fitness trackers in New York, Dec 15, 2014. [Photo/IC]
WeChat's daily step-counting service is driving my girlfriend crazy.
Every night at 10:00 pm, the closing time of each day's count, she checks her tally on the social networking application that tells her whether she, or one of her cyber friends, has taken the most steps that day.
On Sunday night, after we had both completed an exhausting 5-km jog (5 is more than enough to drain me of breath), she was shocked to find she was still 300 steps short of the top spot.
It was four minutes to 10, so she sprinted out without wasting a second.
"I have to beat her, I'm only steps away..." she panted into the phone to me seconds later, her voice becoming inaudible above the noise of the traffic.
Dutifully I chased after her, and when I finally caught up, still trying to even-out my heartbeat, I found a deflated competitor who had still lost the battle, despite taking a total of 13,471 steps that day.
Fitness technology has turned my chowhound honey into a runner, a sprinter and a victory-hungry cockerel.
There are no medals for being WeChat's top stepper, but higher-ranked players might collect more "likes" from their fellow users. Is that really an incentive, I wonder?
I've never made it into the top 20 on my app, partially because some of my friends are marathon lovers-I really should have deleted them so I can sit in front of the TV, guilt-free, bingeing on fried chips.
The other reason for my lack of success is that daily, it appears, there are increasing WeChat friends joining the game, making it harder for a rookie jogger like me to top the podium.
I have 145 WeChat friends that are recording their steps each day and the number is surging.
Chinese people are suddenly in love with fitness.
A marathon being run in Beijing in September recently attracted 33,000 applications on the first day of registration. The event only accepts 30,000.
You certainly don't have to be technology-savvy to run, but the popularity of social networking tools and wearables continues to push users to burn ever-more calories.
Beijing-based tech firm Xiaomi Corp sold 6 million of its Mi fitness band (79 yuan, or $13) in the first half of the year.
Xiaomi emerged as the world's second-largest wearable device maker in the first quarter, lagging behind the US-based Fitbit Inc.
Taiwan-based Gartner Inc analyst Amy Teng said that she's worried low-end wearables might wash away users' interest in the devices over the long run.
But actually, it's the more affordable products that are dominating the market, and it's the expensive Apple Watch that's now struggling.
This is undoubtedly a young person's market-for clever devices offering a range of basic functions in a watch-size shell which requires recharging daily.
But once people get used to the first-generation products, they are soon hooked and start looking for more features, and that's where the vendors need to be nimble.
In China, Xiaomi, Fitbit, Jawbone Inc and Apple Inc are among the most popular wearable-device vendors, and I have tried all of their star products.
The cheapest, the Mi, provides the most basic, and accurate, steps data.
Jawbone has a fashionable design and a cool app that tells users more info, such as caffeine intake and fitness tips.
Fitbit also features a well-informed app, its devices are chic, and it shows time and activity data via an embedded screen.
Apple Watch gives users a wider spectrum of services, but most of them have nothing to do with fitness.
It is safe to say I'm more physically active as a result of these wearables.
I've not only started to pay more attention to how many steps I take, but how well I slept. And I've even lost a kilo and a half.
These wearables make users more aware of their body conditions and health-which has to be a good thing for the tens of millions of people in China who say they are too busy, or lazy, to exercise.
For the vendors, the country's growing sub-healthy population guarantees them a bulging target market in coming years.
Industry estimates suggest within just two years there will be 50 million buyers spending 200 yuan on each of their own fitness wearables. That's a pretty healthy 10 billion yuan.