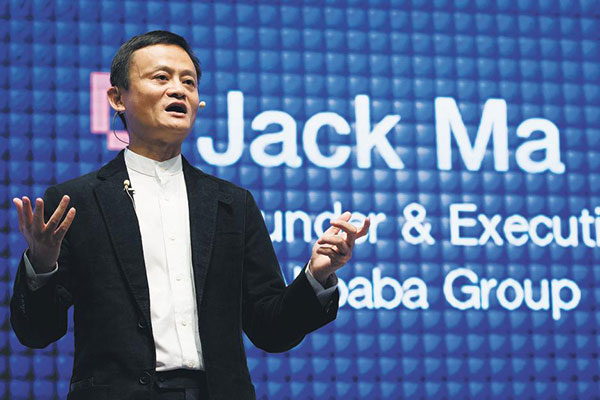 Jack Ma, chairman of Alibaba Group Holding Ltd, is one of the founders of the Peach Garden Ecological Conservation Foundation. [Photo/China Daily]
Billionaire Alibaba boss buys $23m Brandon Park in the US as he expands his investment in environmental protection
Billionaire Jack Ma has always been a leading advocate of environmental protection and now he has invested $23 million in a private park in up state New York.
The executive chairman of Chinese e-commerce giant Alibaba Group Holding Ltd last month splashed out on the 120-acre Brandon Park in Adirondacks, northern New York state, in the United States, as part of his conservation plans.
Along with his wife, Zhang Ying, Ma bought the pristine park through his Peach Garden Ecological Conservation Foundation, which he founded in April with another Chinese Internet tycoon Pony Ma.
"Brandon Park is a living proof of conservation," a statement released by the Alibaba Group, which is based in Hangzhou, the capital city of Zhejiang province in eastern China, highlighted.
Without going into further details, the Peach Garden Foundation plans to set up similar projects in China to help solve some of the country's environmental problems.
Ma, whose net worth is estimated to be as much as $23.9 billion, has made considerable donations to conservation efforts here, helping to create the Sichuan Nature Conservation Foundation and the Laohegou Nature Reserve in Sichuan, Southwest China.
Last year, he created a charitable trust that now has an endowment of $3 billion.
"Protecting the environment in China will always be Jack's first and foremost priority, and he will continue his strong efforts there," Jim Wilkinson, a spokesman for Alibaba in the US, told The Wall Street Journal.
"This international land purchase reflects Jack's belief that we all inhabit the same planet and we all breathe the same air, so we are dependent on each other for our collective future."
Ma acquired the estate through New Brandon LLC. And it was once part of a nature reserve created by the legendary 20th century US tycoon William A. Rockefeller Jr, co-founder of Standard Oil.
"Brandon Park is a paradise," Phil Brown, the editor of the nonprofit Adirondack Explorer, the regional bimonthly which focuses on environmental issues, said.
"Twenty-eight thousand acres with 7 miles (11.2 kilometers) of pristine river, 11 brook-trout ponds, and a 2,200-foot (671-meter) mountain."
As soon as the Peach Garden Foundation acquired the park, all commercial development, such as logging, was closed down. Ma plans to set up a conservation study into the park's brook trout.