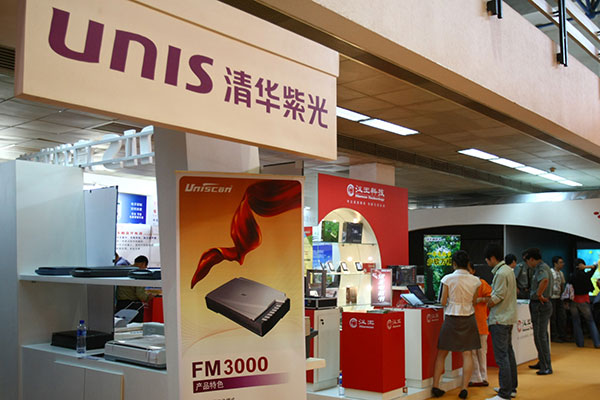 The stand of Unisplendour Corp Ltd, a listed company under Tsinghua Unigroup Ltd, at an international technology expo in Beijing. Unigroup is planning to buy US chipmaker Micron Technology Inc to lift its top-tier global ranking. [Photo/China Daily]
Tsinghua Unigroup Ltd, the State-backed technology giant, is planning the biggest-ever Chinese takeover of a United States firm, but it is likely to face both financial and US regulatory challenges if it is to succeed.
The integrated circuit manufacturing specialist is believed to be bidding a record $23 billion to buy US chipmaker Micron Technology Inc, sources said on Tuesday.
Unigroup refused to comment on the potential buyout and Micron said it had yet to receive a formal offer.
The Beijing-based company has been attempting to buy Micron for some time, according to an industry source familiar with the matter.
Zhao Weiguo, chairman of Unigroup, told Bloomberg News in an earlier interview the company is "very interested in cooperation with Micron".
The acquisition price is estimated at around $21 a share, or 19.3 percent more than Micron's closing price in New York on Monday, which gave Micron a $19 billion market capitalization.
If completed, the takeover will be the biggest in Chinese history, topping oil giant CNOOC Ltd's $15.1 billion takeover of Canadian oil and gas producer Nexen Inc in early 2013.
Analysts said Zhao could pay considerably more for Micron, however, as investors went through a poor last year and are looking to the Idaho-based multinational to at least double its market value in the coming years.
Billionaire hedge fund manager David Einhorn said over the weekend that the semiconductor sector's bright outlook could even make Micron worth more than US online video site Netflix Inc over the "next few years". Netflix is worth nearly $43 billion.
Gene Cao, a senior analyst at consultancy Forrester Research Inc, said Unigroup would greatly benefit from the takeover.
"Unigroup is planning the acquisition because Micron will enhance its product lines of embedded chipsets and related hardware, as well as flash storage and memory computing," Cao said.
Micron could also lift Unigroup's smart-manufacturing capability, he said, so that the Chinese company will be better positioned in the next-generation chip manufacturing and Internet of Things segments.