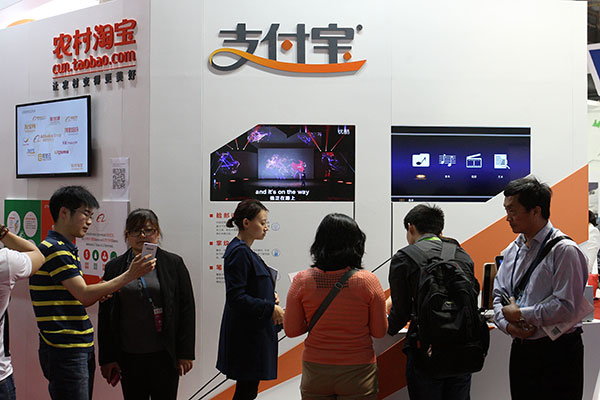 The booth of Alipay at 18th Beijing High-Tech Expo in May. [Photo/China Daily]
Alibaba unit takes on WeChat with updated online product that has greater social networking functions
The battle for mobile app supremacy in China has taken a new twist.
Alibaba Group Holding Ltd has thrown down the gauntlet to rival Tencent Holdings Ltd's popular messaging application WeChat by giving its own payment app Alipay greater social networking functions.
The latest update of Alipay enables the app to connect to different accounts so users can chat, share shopping information, buy financial products and lend money to each other.
Alibaba's financial arm Ant Financial, which runs Alipay, said on Wednesday the upgrade will help users communicate with close friends, while providing online payment and personal financial services.
Fan Zhiming, head of payment services at Ant Financial, said the new app aims to solve users' demands in different scenarios.
"Mobile payment is just one of the functions users are looking for from Alipay. We will build more services so it can fit in more real-life demands," Fan said. "This is the most revolutionary upgrade of Alipay since it was launched 12 years ago."
The upgraded version of Alipay is clearly targeting WeChat, the most popular instant messaging app in the country that has about 550 million monthly active users.
Alipay has more than 400 million "real-name subscribers", according to Fan.
Apart from adding social networking function, Alipay has also integrated a Yelp-like crowd-sourced local review of businesses and an online reservation and payment system.
In the personal finance sector, Alipay will launch a stock trading function by the end of this month. The online platform already deals in fund purchases.
Chen Weiru, associate-professor at Shanghai-headquartered business school CEIBS, said by adding the "friends" function, Alipay is no longer a third-party payment tool.
"The new Alipay is becoming a multifunctional service portal that takes in local businesses, financing, friend-to-friend loan and personal credit ratings," Chen said. "This expansion will make Alipay a bigger player in the cyber and real lives of customers."
But it will take time to see if it can eat into WeChat's market share.
Alipay and WeChat joined a "red envelop battle" by allowing users to send money online to friends and family during this year's Spring Festival.
The big two also clashed in booking taxis and car-hire services last year. Alibaba and Tencent spent billions of yuan subsidizing the country's taxi drivers in the hope that customers would choose each other's payment app.
Dong Xu, an analyst from Beijing-based consultancy Analysys International, said WeChat dominance in China's mobile networking market is almost impossible to break in the near future.
"WeChat was able to quickly release new versions, adding and cutting functions to keep users active," Dong said.
In addition, WeChat is also attempting to invade Alipay's home turf by adding payment and shopping services.