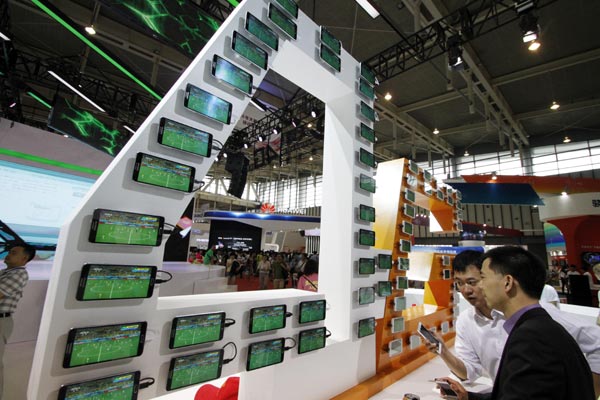 Smartphones on display at a smart terminal show in Nanjing, Jiangsu province. It is reported that China will launch a self-developed desktop operating system to take on Microsoft's Windows. [Photo/China Daily]
Domestic software developers set to benefit from localization plans
Homegrown operating systems face a bumpy road to replace their overseas counterparts. But for Chinese OS developers, it is a matter of now or never, industry insiders said.
They said they believe the recent procurement ban on Microsoft Corp's Windows and the current leadership's determination to boost the domestic software industry offer Chinese providers a golden opportunity to catch up with overseas giants.
Windows will be replaced by Chinese operating systems two years from now, industry newspaper the People's Post and Telecommunications News reported on Monday, citing Ni Guangnan, an academician at the Chinese Academy of Engineering.
"China will launch a new desktop operating system that supports application downloads from online stores by October," Ni said, and in two years, this system can replace Windows. He added that a mobile version of the system will be unveiled roughly three years later.
The project is led by an OS development alliance established months ago. The State Information Center and Web safety firm Qihoo 360 Technology Co Ltd are among the most active partners in the alliance.
The Windows systems dominate the Chinese OS market.
In July, more than 86 percent of devices—including personal computers and smartphones—that connected to the Internet that month used Windows, according to data collector cnzz.com. Over half of the computers in the country are running Windows XP, a decade-old system that Microsoft stopped updating patches for earlier this year.
Google Inc's Android system took about 10 percent of market share, cnzz said.
Charlie Dai, principal consulting analyst at Forrester Research Inc, argued it will be hard for China to abandon Windows in the short run despite signs that the government intends to oust the world's most-used computing platform.
"Replacing an OS is a highly complicated project because of the compatibility challenges, security worries and cost issues," according to Dai.
"Windows has been used for years in various industries, which will make the shift more delicate. The customers have to consider the potential cost of the OS change although Microsoft is not favored," he said.