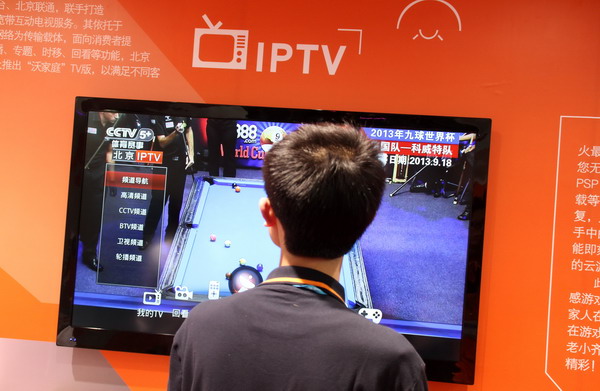 An IPTV booth at an international Internet exhibition in Beijing. The annual turnover of China's information technology and telecommunication industries is set to hit $602.3 billion by 2020. Provided to China Daily
Technology marks a great leap forward for business, say industry analysts
As the five rings finally blossomed during the closing ceremony of the Sochi 2014 Olympic Winter Games, television broadcasters were celebrating the breaking of yet another world record.
TV and online audiences around the globe were witnessing a new chapter in telecommunications history: the first time the Olympics had been televised throughout the event over Internet Protocol Television, meaning no additional cables had to be laid.
The industry breakthrough could also mean business opportunities for John Wang, Greater China head of Avaya Inc, whose networking and Unified Communications technology helped to provide seamless voice, video and data coverage throughout the event.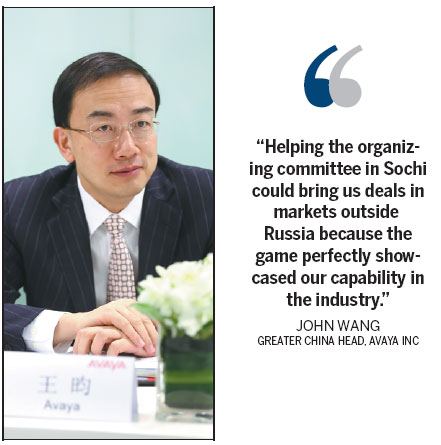 The company also employed IPTV for the Paralympics, also held in the Russian city.
"Helping the organizing committee in Sochi could bring us deals in markets outside Russia because the game perfectly showcased our capability in the industry," said Wang, a Shanghai native and an information technology veteran.
More than 75,000 people visited the Sochi Olympic Park and at least 3 billion watched TV broadcasts around the globe each day, according to the organizers.
Media, athletes and coaches were able to tap into 36 IPTV channels across the Avaya network infrastructure. This meant a reporter watching the figure skating live in the Bolshoy Ice Dome could also watch the downhill skiing on high-digit TV.
News photographers had instant-upload access to thousands of pictures from wireless-enabled cameras, from the moment an athlete crossed the finish line.
Wang said the effective communication network Avaya built in Sochi will set the pace for the adoption of similar technologies in China.
"We are looking at small and mid-sized enterprises for business growth in China this year," he told China Daily on a laptop running high-definition video conferencing software developed by Radvision, an Avaya subsidiary.
Wang and his China team use the enterprise grade multi-party mobile video collaboration platform on a daily basis to hold meetings.