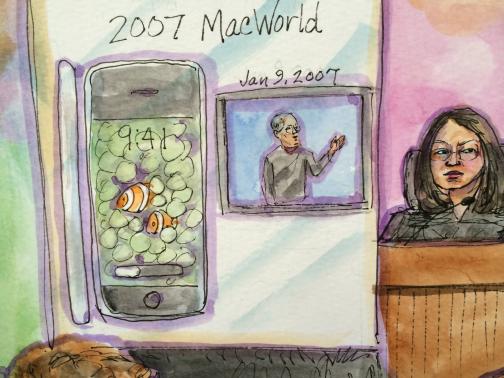 US District Judge Lucy Koh is shown in this courtroom sketch during Apple Inc vs Samsung Electronics Co Ltd case in US District Court, Northern District of California in San Jose, California. [Photo/Agencies]
San Jose - Apple Inc and Samsung faced off once again in their long-running courtroom battle, with the iPhone maker asking jurors to award more than $2 billion for patent violations and Samsung trying to cast its rival as a sore loser in the smartphone market.
Attorneys made opening statements on Tuesday at the companies' third trial in the last two years, in a San Jose, California federal court. Apple marketing chief Philip Schiller also testified about his shock at how similar Samsung's smartphones were to the iPhone.
Jurors awarded the iPhone maker about $930 million after a 2012 trial in San Jose, California, but Apple failed to persuade US District Judge Lucy Koh to issue a permanent injunction against the sale of Samsung phones.
A sales ban would be a far more serious threat to Samsung, which earned $7.7 billion in the quarter that ended in December. Samsung's mobile division, which includes smartphones, generated operating profit of 5.47 trillion won ($5.1 billion).
The current trial involves a fresh batch of Apple patents, which cover iPhone features like slide to unlock and search technology. Apple is again seeking to ban sales of several Samsung phones, including the Galaxy S III.
Apple attorney Harold McElhinny told the eight-member jury on Tuesday that Samsung had sold over 37 million phones and tablets that infringe its patents, and deserved an average royalty of $33 per phone.
"They will try to tell you that our inventions were and are trivial," McElhinny said. "And that they are not valuable."
McElhinny said Samsung could not compete with Apple and had reached a crisis by 2010. "It copied many many features," he said.
However, Samsung attorney John Quinn said the South Korean company's phones use Google Inc's Android operating system. The features Apple is claiming to own were actually developed by Google, which did not copy Apple, he noted.
"We will prove to you that, yes, Apple is a great company but they don't own everything," Quinn said. "They don't own the only way to search on phones."
In attempting to win a sales ban against Samsung, Quinn said Apple is trying to recover its leading position in the smartphone market.
"What this case is really about is Apple trying to limit consumer choice and to gain an unfair advantage over its one main competitor, Google's Android," Quinn said.
Samsung also claims Apple violated two of its patents, and is seeking to ban the iPhone 5.
Both sides invoked Apple co-founder Steve Jobs, who passed away in 2011. McElhinny played video of Jobs launching the iPhone, saying the device embodied over 200 inventions and remade the way people communicate.