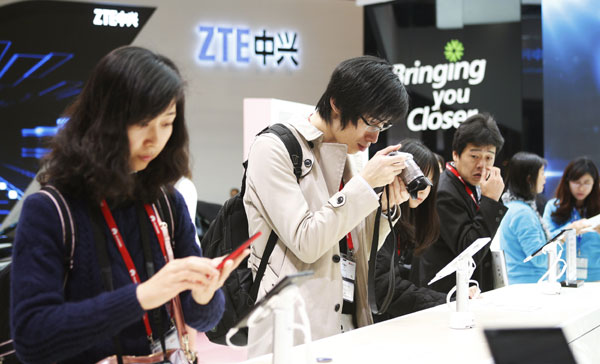 Visitors check out products at the ZTE stand at the Mobile World Congress in Barcelona, Feb 24, 2014. [Photo/Agencies] 
Chinese telecom equipment maker ZTE Corp reported a net profit increase of 149 percent year-on-year in 2013, after a steep loss the previous year, thanks to stringent policies to achieve a satisfactory profit margin.
According to a filing to the Hong Kong stock exchange on Wednesday, the revenue of Shenzhen-based ZTE decreased by 10.6 percent year-on-year to 75.23 billion yuan ($12.1 billion) in 2013, mainly as a result of a decline in operating revenue from terminal products.
However, ZTE managed to realize a net profit of 1.36 billion yuan during the period, recovering from a net loss of 2.84 billion yuan in 2012.
ZTE said it strengthened its management over contract profitability and exercised stringent control over the execution of low gross margin contracts, resulting in improved gross margins for international projects and an increase in operating revenue from domestic systems projects as a percentage of total revenue.
In 2013, while global carriers tended to adopt a careful approach to equipment investment, domestic carriers gradually increased their investment in equipment because of the issuance of 4G licenses. That was also a major reason for the boost in ZTE's performance, the company said.