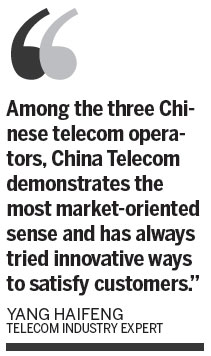 Number of customers signing up for 3G Internet services skyrocket
China Telecom Corp Ltd, the nation's smallest mobile network carrier by subscribers, posted a 17.4 percent rise in net profit for 2013 as it gained subscribers of its third-generation (3G) services.
Profit rose to 17.5 billion yuan ($2.85 billion), China Telecom said at a news conference in Hong Kong on Wednesday. Operating revenues rose to a record 321.6 billion yuan, an annual 13.6 percent increase.
China Telecom had a total of 186 million clients last year. Subscribers to its 3G services increased a net 34 million, taking the total to more than 100 million.
China Telecom said 3G customers account for 56 percent of its total mobile subscribers, improving its client structure.
Chairman Wang Xiaochu said in a statement that China Telecom will apply for an FDD LTE operating permit after the Chinese government began issuing 4G licenses in December.
China Telecom competes in 4G with bigger domestic rivals China Mobile Ltd and China Unicom (Hong Kong) Ltd. It launched commercial 4G mobile network services in China in February based on the home-grown Time Division - Long Term Evolution (TD-LTE) 4G technology.
China Telecom offers wireless network cards and plans to start 4G businesses in close to 100 cities across the country this year. This year's capital expenditure has been set at 80.3 billion yuan, up from 80 billion yuan in 2013 as it strengthens its mobile network.
"Among the three Chinese telecom operators, China Telecom demonstrates the most market-oriented sense and has always tried innovative ways to satisfy customers," Yang Haifeng, a Beijing-based telecom industry expert, said.
China Telecom became the first Chinese operator to cooperate with an Internet firm when it launched the instant-messaging mobile tool Yixin with the number of registered users rising to 60 million last year, according to the company.
China Telecom also introduced BestPay, a mobile payment platform for online transactions, similar to Alipay. Transactions on BestPay more than trebled to 133 billion yuan in 2013 compared with the year before.
China Unicom reported last month a 47 percent increase in full-year earnings as smaller players drew customers from market leader China Mobile, which is scheduled to report full-year earnings on Thursday.