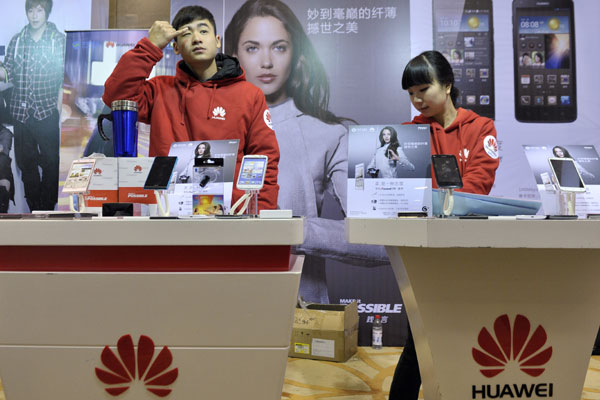 Huawei's exhibit booth at a 4G cellphone purchasing conference in Nanjing, Jiangsu province, on Dec 23, 2013. Provided to China Daily 
As the dust settles on another incredible Chinese New Year celebratory festival, the ink is still drying on the latest international sponsorship deal featuring one of the growing number of rapidly internationalizing Chinese companies.
This time, it is the turn of Shenzhen-based telecommunications giant Huawei Technologies Co Ltd (which recently signed a global partnership deal with Arsenal Football Club, an English Premier League soccer team) that will run until the end of the 2015-16 season.
Partnership is a far more appropriate term for this tie-up, much more than sponsorship, because both brands will benefit immensely from the agreement.
Under the terms of the deal, Huawei will become the official smartphone partner globally of what is still referred to as the "establishment" (soccer) club.
The deal will see leading, world-famous Arsenal players, such as Mesut Ozil and Jack Wilshere, feature in Huawei's communications and promotional activities both in the UK and overseas.
The partnership will also include exclusive offers, content and brand presence during Arsenal matches, as well as promotional opportunities via the club's digital and social media platforms. Furthermore, Huawei will have access to the club's customer database and exclusive match-day hospitality for competition winners at Arsenal's Emirates Stadium in London.
For Huawei, further penetration of the lucrative UK and European markets is the prime motivation behind this strategic move while, for Arsenal, this represents a wonderful opportunity to increase further the team's fan base across China and Asia.
But what makes this a particularly shrewd brand-building initiative on the part of Huawei and its management team is the choice of this north London club over other equally famous soccer and other sports teams in the UK and Europe.