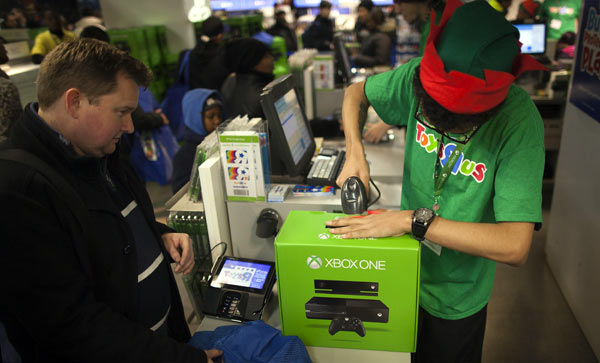 A man buys an XBOX One video game console at a Toys"R"Us store during their Black Friday Sale in New York November 28, 2013. [Photo / Agencies]
Chinese consumer electronics maker TCL Corp will release gaming terminals similar to Microsoft Corp's Xbox, said a company executive.
"Entertainment will be the biggest focus for us this year," said Hao Yi, president of TCL Multimedia Technology Holdings Ltd, a major subsidiary of TCL.
Increasing demand for video games from Chinese youngsters will drive the sales of the company's new gadgets, Hao said.
The Guangdong-based TV set maker is likely to join hands with a local game handler to develop the new products, news portal qq.com reported.
Hao did not disclose the possible release date of the terminals nor the sales forecast.
TCL's decision was made after China reopened its video-game market in late 2013.
Overseas hardware manufacturers, such as Sony Corp and Microsoft, are also eyeing the lucrative business in China.