Smartphone shipments to soar
Updated: 2013-09-26 07:13
4G sales will help push domestic sales to record highs, analysts say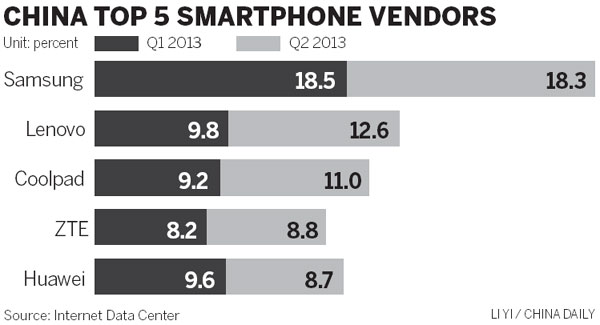 Smartphone shipments in China will hit 450 million in 2014, pushed up by aggressive tactics by local vendors and the advent of the highly anticipated fourth generation network, an industry report said on Wednesday.
Four Chinese manufacturers were ranked among the top five smartphone brands in the market at the end of June, taking more than 40 percent of the market share, said IDC, a United States-based consultancy.
The shipment volume this year is set to reach 360 million, according to an IDC report.
The world's No 1 personal computer maker Lenovo Group Ltd, also claimed the title of top local smartphone vendor with a 12.6 percent market share in the second quarter, said the report.
The company's first quarter market share was 9.8 percent.
Chen Xudong, general manager of Lenovo China, said the company will launch more high-end products in the coming months to cement its leading position.
"We plan to build a stronger top-tier product line in order to take on overseas vendors such as Samsung Electronics Co and Apple Inc," he said.
South Korea-based Samsung was the largest smartphone maker in the China market despite strong challenges from local brands. The company controlled 18.3 percent of the market share in the second quarter, down by 1 percentage point year-on-year, data from IDC showed.
The market share of Apple has declined "dramatically", affected by the sluggish sales of the iPhone 5, said James Yan, a senior analyst with IDC China.
"The company's performance is expected to remarkably improve with the launch of the iPhone 5S and iPhone 5C," he said.
However, Samsung and Apple may find difficulties expanding their user population in China after Lenovo and Huawei Technologies Co Ltd the fifth largest maker released high-end gadgets with faster chips and at lower prices.
In the meantime, analysts noted local brands are more competitive at the lower end of the market, where customers are price sensitive and ask for smooth performances in the products.
The substantial shipments of low-end 3G smartphones priced below 800 yuan ($130) was the major reason powering the double-digit growth in the second quarter, said IDC.
Coolpad, a popular smartphone brand for students and young adults, took an 11 percent market share from lower-end users as of June, a surge of more than 20 percent year-on-year.