Leica seeks out younger customers
Century-old German camera brand Leica, known for its 35-mm film camera and lenses, aims to attract younger customers by adding digital cameras into its product line.
Leica opened its fifth Chinese store in Beijing on Sept 9, unveiling its new compact digital camera Leica C with built-in Wi-Fi.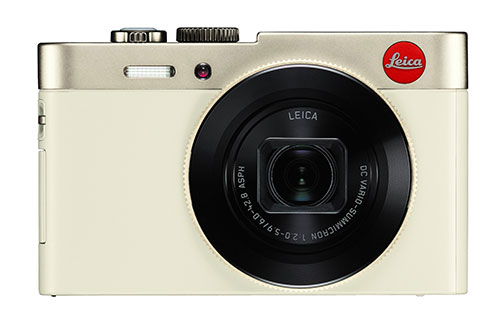 The front of Leica C in light gold finish. [Provided to China Daily]
The new product is priced at the most competitive price ever of all Leica products, at about 6,000 yuan ($980), says Sunil Kaul, managing director of Leica Camera Asia Pacific. Leica M and S launched in recent years cost from tens of thousands to hundreds of thousands yuan, a common price for Leica products.
In Kaul's words, the economical Leica C is a "beautiful temptation for young people" as most Leica users are said to be more than 40 years old.
"We want to attract young people to use Leica by launching the economic Leica C. After they use it, they will go to other Leica products," Kaul says.
Choosing China as the venue for the launch of the new Leica C, Kaul says, is a sign of Leica's focus on Chinese market. The new Leica C is scheduled to be on sale in October.
China has exceeded Japan to become Leica's largest market in Asia in recent two years, says Kaul. The market here accounts for 30 percent of Leica's Asia revenue and contributes 10 percent to its global revenue.
"We don't have any restrictions from Chinese market, but we have restrictions from our production capacity. Otherwise we would have more stores here," says Alfred Schopf, CEO of Leica Camera AG.
Known for its expensive price, small and sophisticated appearance and high-quality lenses, Leica makes cameras that are classics of its time.
To maintain the high quality of its lenses, it takes a serious view in terms of expanding its production capacity.
Leica operates stores in Shanghai, Shenzhen and Beijing. The fifth store in Beijing is the biggest in China, complete with a gallery to exhibit photos taken by famous photographers using Leica.
Apart from Leica's newly launched products, antique Leica cameras and limited editions are displayed here to help build the camera brand in China, says Henry Chau, president of L&H Auction - the owner of the store.
The Leica M9-P camera displayed on the opening day is a limited edition made by Hermes and Leica, priced at about 200,000 yuan.
Chau says the new Beijing outlet is more than a store. It's a window for Chinese Leica collectors, Leica fans and potential Leica users.
Asked whether Leica will give limited edition cameras to Chinese celebrities, just like what the brand has been doing in the West for years, Leica CEO Alfred Schopf says no. But 99.9 percent of celebrities buy them.