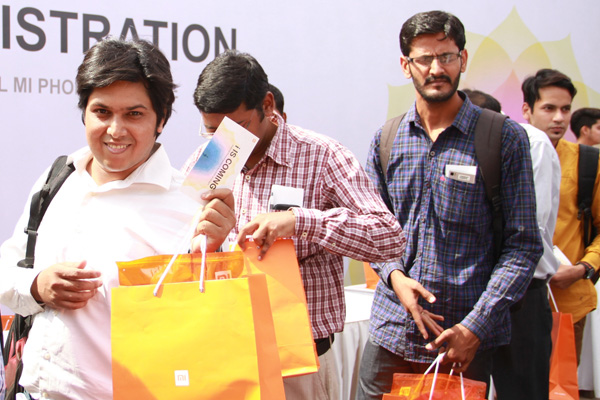 Fans of Xiaomi smartphones in India line up outside a Xiaomi new product release in New Delhi. [Photo provided to China Daily]
Singles' Day (11/11 or Nov 11) is nigh. Consumers, allegedly kings who spent $14 billion last 11/11, are forecast to enrich Chinese online marketplaces and manufacturers even more this year. But it's possible the latter may be celebrating already, thanks to glad tidings from India.
Starting with the Aug 15 Independence Day-related discount sales, through religious festivals that double up as consumer hyperactivity periods lasting till mid-January, India goes into a shopping frenzy. It peaks during the October-November period when retailers, malls and online marketplaces unleash all sorts of sales and promotions for Dasara and Deepavali, two key Indian festivals.
India's online marketplaces are rife with fantastic deals on Chinese products, particularly tech stuff like smartphones, as well as toys, garments, even appliances. Haier, Xiaomi, Huawei, Lenovo, Oppo, Vivo, Gionee, Coolpad, LeEco, TCL, Moto and OnePlus, the new Chinese tech kid on the block, are all raking it in. It appears as if Indian festivals have become a celebration of Chinese goods.
A Shanghai-based representative of Indian industry in China said it's not just Chinese tech products that are popular in India. Even small and medium-sized businesses in the auto, air conditioner, pharmaceutical and textile industries source components and raw materials from China, giving the lie to the "myth" that Chinese products are inferior. They are competitively priced, and hence preferred as they generate healthy margins at the end of the day.
One acquaintance simply said India can't do without China when it's dependent on even China-made nail-cutters and spoons. A female friend said, "I once bought a silk saree ... thought it was Mysore silk ... It was Chinese."
Against this background, the online calls by some Indians to boycott Chinese products appear incongruous. Non-trade issues have stoked emotion and nationalism among some Indians on social media apps, including, ironically, Chinese apps such as WeChat.
A New Delhi tabloid last fortnight reported a 20 percent drop in sales of China goods due to the campaign. But Indians in other cities, and consumers online, are buying Chinese goods, according to friends and media. Leading Indian e-commerce websites announced record sales of Chinese smartphones from Lenovo, Moto, Xiaomi and OnePlus this month.
Officialdom on either side has been mum on the online campaign-that's a sign it's not a serious issue, a friend said. Another propounded a conspiracy theory: Indian manufacturers and businesses, hurt by imports of Chinese goods, may be behind the campaign.
My guess is, every second or third Indian consumer must have used a Chinese smartphone to upload, broadcast or forward messages related to the campaign. I'd bet they, like millions of other Indian consumers, must be continuing to use Chinese gadgets, devices, appliances and services, or may be planning to buy them. (For the record: I still use the Xiaomi Mi-3W I had bought in my third attempt on a popular Indian e-commerce website's flash sale in 2014.)
I chatted up compatriots on the raging topic. Several insightful views emerged:
In this age of the World Trade Organization, globalization and interdependent markets, it's impossible and impractical to boycott or ban overnight goods and services of any country, least of all China's, especially when trade and outsourced manufacturing are key to your economy. Unless a country has domestic capability, efficiency and economies of scale, it can't afford to boycott superior and competitively priced imported goods.
Consumers will buy products that pack value for money, irrespective of who makes them or where they are made. Some form of protection for domestic firms may be necessary in certain situations, but that's a matter of government policy, not jingoistic campaigns.
As far as possible, politics should not be mixed with religion, art, culture, science, technology, business or trade. And, yes, most of my pals and ex-colleagues will continue to buy Chinese stuff.
So would I. On my Xiaomi is a note, a wish-list I've been drawing up for 11/11. I debuted last year, and I intend to use that experience to land better deals this year.
"In business, emotional campaigns will run their short course and die a natural death," said a friend.
I think he hit the nail on its head. That nail could well have been manufactured in China.