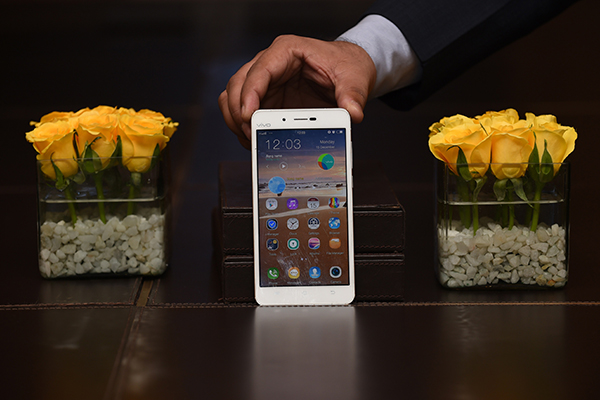 The newly launched Vivo X5Max smartphone at a promotional event in New Delhi last year. [Photo/Agencies]
Will smartphone maker Vivo Electronics Corp be China's first super-brand in the mold of, say, Apple Inc of the US, Sony Corp of Japan and Ikea of Sweden? The question might appear a bit premature, even impertinent, but Vivo's maverick approach to business development, bold brand building and global ambitions warrant it.
Brands such as Xiaomi, Lenovo, Gionee and Huawei are more well-known than Vivo outside China. But I see that changing quickly. Vivo, it appears, is playing a different ball game to reach the top of the heap, and is also changing how the world perceives and treats Chinese brands.
Vivo, it is believed, may have splurged some $23 million on a two-year title-sponsorship of the Indian Premier League. IPL is India's pre-eminent shortest-format franchise cricket tournament that features players from most of the cricket-playing world, which spans the two hemispheres and stretches from New Zealand to the Caribbean and the United Kingdom, and hence has global appeal, like the English and Spanish football leagues.
Although both Vivo and the parent of IPL, the Board of Control for Cricket in India, have not officially disclosed the title-sponsorship figure, the assumed $23 million is based on informed media speculation and previous title-sponsorship amounts.
What makes Vivo's investment unconventional is not the amount itself or the two-year duration of the sponsorship. Vivo has rushed in where PepsiCo Inc feared to tread and withdrew its five-year, almost $72-million IPL title-sponsorship two years before the term ended. Pepsi was uncomfortable associating with a tournament that has been rocked by ethical issues and a bruising spot-fixing scandal.
But Vivo's gamble, or strategy, if you will, is based on the understanding that cricket is dear to millions of youth, its target consumer group. Hitch your marketing wagon to the cricket star and, presto, you will have hit bull's-eye.
It is a philosophy made famous by Alibaba-backed PayTM, an online payments and e-commerce player in India. In July, PayTM clinched an over $31-million sponsorship deal till 2019 covering 84 international and domestic cricket matches in India.
So, in choosing cricket, Vivo appears to be on a good wicket. But by choosing IPL that Pepsi deserted, Vivo seems to be unveiling its bold, ambitious, devil-may-care streak.
That streak is also evident in Vivo's heavy investments in offline channels when Xiaomi, Oppo and Gionee, its Chinese competitors in India, are big on online sales. Vivo entered India in December, but it has readied a marketing war chest of $20 million, according to media reports.
But that alone won't make Vivo another Apple, Sony or Ikea. So, Vivo has its sights on both quality and scale. This is where it stands out from other Chinese brands. To be sure, all Chinese brands with a global play have scale, but they are not really known for superior products and efficient after-sales service.