BAIC subsidiary's joint ventures to strengthen auto parts offerings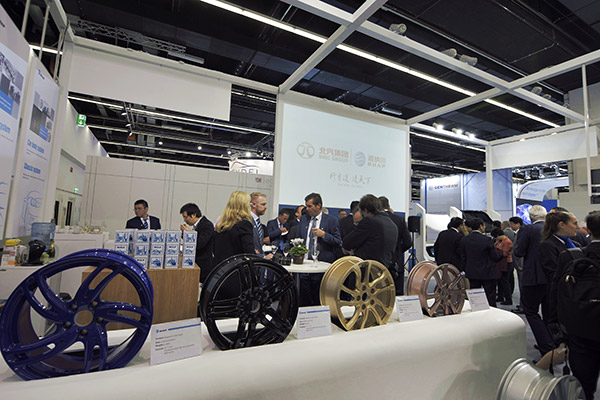 Visitors at the stand of the Beijing Hainachuan Automotive Parts at this year's Frankfurt Motor Show. [Photo provided to China Daily]
A BAIC Group subsidiary is partnering with international automotive parts suppliers to better explore the potential of the world's largest automotive market.
Beijing Hainachuan Automotive Parts Co is considering opportunities with various partners, according to agreements it signed on Sept 13 during the Frankfurt Motor Show in Germany.
BHAP is one of the first Chinese suppliers to show its latest products and technology at the Frankfurt Motor Show, including lightweight materials, advanced driving assistance systems, electric car gearboxes, electric steering systems and many other products.
"We have carried out studies for years in new technologies such as intelligent, electric and light-weighted vehicles," said Han Yonggui, chairman of BHAP and also a board member of BAIC Group.
"We have been working hard to improve our capabilities in independent research and development, as well as technological innovation, to make major breakthroughs in key technologies."
The agreement signed with Hella Group indicates the two will explore intelligent driving, automotive electronics and the aftermarket business. BHAP also signed a memorandum of understanding with Magna International to build a joint venture that will specialize in door locks, windows and audio speakers.
The joint venture is designed to offer products for 300,000 cars a year, with Beijing Benz Automotive Co being its major customer.
ZF Group is another international giant that inked a joint venture deal with BHAP on the same day.
The two will produce EVD2 electric drivetrain products for BAIC EV, a BAIC Group new energy car arm, and other new energy vehicle makers in the country.
Since 2013, BHAP and ZF have been working on chassis, driving systems and new energy products.
Zhang Xiyong, general manager of BHAP's parent company, BAIC Group, believes the cooperation will generate productive results.
"Great opportunities for development will surely appear in the revolution of auto parts technology, the basis of innovation in vehicle technology.
"I hope BHAP will work with its partners to deepen mutual trust, further strengthen collaboration in new energy and intelligent fields, ensure open, tolerant and innovative cooperation and make fresh progress in promoting strategic partnership."
BAIC Group is one of the largest carmakers in China and has established partnerships with Mercedes-Benz and Hyundai. One of the country's fastest growing suppliers, BHAP has a rich portfolio of products ranging from interiors and exteriors, to chassis and power systems. The company has six R&D centers and 14 manufacturing facilities around the world.
Its major customers include global brands such as Mercedes-Benz, Audi, BMW and Volvo. Its sales revenue in 2016 reached 48.8 billion yuan ($7.45 billion).