Chinese autos launched at Frankfurt's car show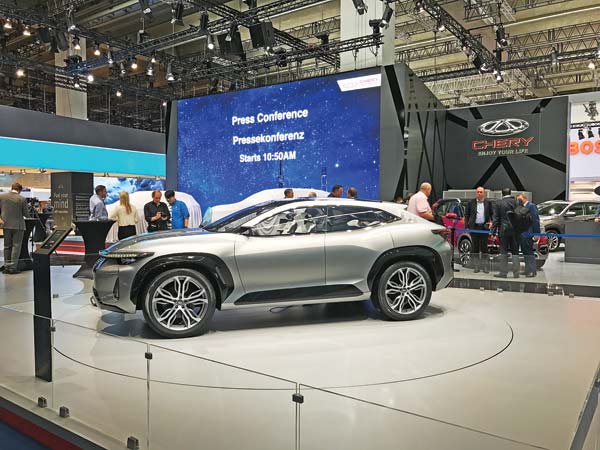 Chery Auto's showroom opens to public during press day at Frankfurt Motor Show on Tuesday.  [Photo/China Daily]
Chery and Great Wall unveil compact SUVs aimed at European, US markets
In the past, Chinese automakers may have regarded major international auto events as means to raise their profile beyond their home market, but now it seems they have more practical aims.
With China planning to adopt one of the world's strictest standards on vehicle emissions to reduce air pollution, carmakers have to produce mass production models that meet standards at home and abroad.
At this year's Frankfurt Motor Show-or 2017 IAA- two private automakers from China, the world's largest auto market, presented new models seeking export markets.
Chery Automotive is one of China's most successful homegrown carmakers which for 20 years has been building up to launching its first global car.
Chery-also China's leading vehicle exporter -announced it will start an all-new model line of passenger cars globally, with plan for sales in Europe within the next few years under a nameplate EXEED.
The automaker said the first model to go on sale across Europe will be a compact sport utility vehicle, called EXEED TX, which was revealed in Frankfurt on Tuesday.
Chery said it is evaluating the sales opportunity in key markets ahead of setting up a European sales operation in cooperation with the company's import and distribution partners.
The company said it plans to sell a range of hybrid electric vehicles, plug-in hybrid electric vehicles and battery electric vehicles.
It is also planning to establish new research and design facilities in Europe.
Also presenting in Frankfurt is Great Wall Motor, China's largest SUV producer.
It unveiled six SUV models under its high-end brand Wey-four of them made their global debut, including a concept one. All are new-energy models.
Great Wall Chairman Wei Jianjun said: "Not only in China, I believe the Chinese brands will perform very well in the world."
He said Wey will enter the North American market in 2021 with two or three mid-size or compact SUV models. The company also plans to build factories to manufacture the cars locally. It is currently searching for locations.
Zhang Yu, managing director of Shanghai-based consulting firm Automotive Foresight Co, said he believes Chinese auto makers are more confident with their products, because of the improved performance of made-in-China vehicles in tests, as well as the upcoming National VI emission standard, which is stricter than Euro 6.
"This time is the real action," Zhang said.
The implementation of new emissions standards in 2019 and 2020 means automakers must produce cars suitable not only for China, but also for Europe and the United States.
However, Zhang said he thinks it will not be easy for them to build a distribution networks in Europe.
Peter Hage, founding partner at auto consulting firm Districom Group, said the main challenge that Chinese automakers facing in overseas markets is building fully international brands and distribution networks in the US and Europe.
Also, the efficient longterm management of increasing complexity across product development, new technologies, international expansion will be a major challenge, Hage said.
"Different customer expectations must be met in terms of vehicle design, quality and performance, as well as overall customer experience management," he added.