Dongfeng Renault's China-produced SUVs draw youth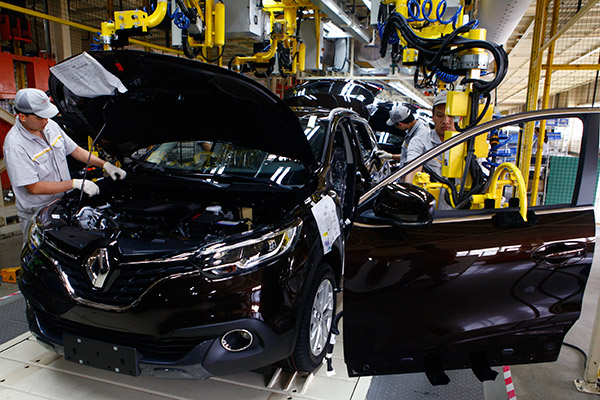 Workers check cars on the production line of Dongfeng Renault in Wuhan, Hubei province. [Photo provided to China Daily]
The Sino-French joint venture Dongfeng Renault Automobile has vowed to expand its presence in the Chinese market, with a focus on offering the latest localized crossover models, and possibly a domestically made sedan in 2019.
The automaker is upgrading its locally manufactured lineup, planning to launch at least one model each year to satisfy the demands of the younger generation of Chinese customers.
"It's a great opportunity for Dongfeng Renault's development to receive the permit to produce sedans locally here in China. This also means Dongfeng Renault can further expand its product mix in the future," said Francois Provost, president and CEO of the joint venture.
"But, right now Dongfeng Renault will put the priority on SUVs," he continued.
This focus on SUVs suggests the company will seek to better tap the currently heating up segment.
The automaker's new Captur made its China premiere in August at the Chengdu Motor Show, one of the most important trade shows in the country.
Dongfeng Renault's Captur is tailor-made for China's urban youth with modern lifestyles, and is designed to provide a high-quality and unique driving experience.
The latest imported Renault Captur is set to launch by the end of this year, after which the Wuhan, Hubei province-based joint venture said it plans to complete the product upgrades of its SUV family, including the all-new Koleos and new Kadjar in the compact segment.
Chen Xi, vice-president of marketing and sales at Dongfeng Renault, said: "Our entire Renault portfolio is built to fit into the different stages of people's lives.
"The market is dominated by the younger generation, so we are providing products to meet their individual demands."
He added: "The new Captur and Koleos are both designed for younger Chinese customers. There will be more such models in the near future."
"Dongfeng Renault is becoming a strong player in the SUV market in China. Our SUV family is tapping the market segment with the greatest potential," Zhou Xiuyan, assistant to the vice-president of marketing and sales, said.
By the end of July, the automaker had achieved a sales volume this year of 41,888 vehicles, about 70 percent of the total annual target.
As one of the youngest joint ventures in China, Dongfeng Renault has set a target of at least 60,000 vehicles for this year.
But the company revealed its ambition to strive for 70,000, or even as high as 80,000 vehicle sales, almost double that of last year's 36,525.
President and CEO Provost said a long-term goal has been established for Renault-branded vehicles to realize a 3.5 percent market share in China, requiring immense efforts on all fronts.
"We will further expand our product mix and the model lineups first."
The Renault Espace multipurpose vehicle is going to hit dealers' forecourts this year, aiming to better meet Chinese families' needs.
The company's parent groups, Renault-Nissan Alliance and Dongfeng Motor Group, have also entered into a new joint venture to co-develop and sell electric vehicles in China.
The new joint venture, eGT New Energy Automotive, will design a new sub-compact electric SUV with intelligent interconnectivity.
It is set to come into operation in 2019 in Shiyan, Hubei province, with an annual capacity of 120,000 vehicles.