Ford, Geely clash over US brand names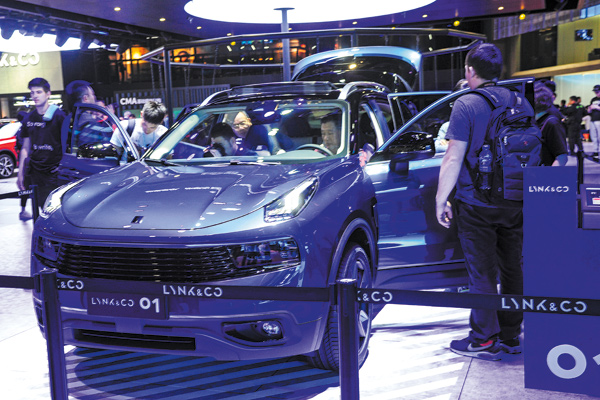 A Lynk & Co concept SUV is a highlight at this year's Shanghai auto show. HAI XIN / FOR CHINA DAILY
Lincoln marque owner objects to similar-sounding Lynk & Co's launch in home market
Chinese conglomerate Geely Holding has hit a speed bump on its way into the United States, as Ford Motor has challenged the trademark application for its new car brand Lynk & Co.
Lynk & Co's first car, a compact SUV, is set to hit the Chinese market later this year and was scheduled to reach the United States around 2018.
Alain Visser, senior vice-president of the new brand, expected the US market to generate some 20 percent of Lynk & Co's annual global sales, which he estimated will reach 500,000 vehicles around 2020.
As Geely applied for a trademark in this major target market, however, Ford argued that Lynk & Co sounds too similar to its premium arm Lincoln and may confuse its customers, according to the US-based website Automotive News.
Ford was granted an extension earlier this month by the US Patent and Trademark Office to formally oppose the trademark. It has to file its opposition by Nov 15.
"The Lincoln brand has a rich 100-year history and we intend to protect its reputation," Automotive News quoted a Ford representative as saying.
"Lynk & Co is infringing on the Lincoln trademark and we are taking legal actions to prevent them from using their infringing mark. Their name as it stands will confuse customers."
Song Zhaoheng, a spokesman at Geely Holding, told China Daily on Thursday that the automaker is confident in gaining the trademark in the US.
"I don't think the application will encounter big trouble. It is currently going smoothly," said Song, adding that the automaker is very likely to acquire the trademark, through either the normal legal process or consultations with Ford.
Lincoln China did not immediately answer a call for comment on the possibility of any consultation.
Gui Shengyue, executive director of Geely Auto, told Chinese reporters that Geely and Ford have good relations.
It was from Ford that Geely bought Volvo Cars, which is sharing technology with Geely Auto and Lynk & Co.
An Conghui, CEO of Geely Auto, a shareholder of Lynk & Co, said at a news conference in early August that Lynk & Co cars are to rival those from mainstream international brands, such as Volkswagen, GM, Ford and Toyota, while Volvo is to compete in the same segment as Lincoln.
As such, the products themselves are not to compete with each other directly.
Featuring Volvo technology, Lynk& Co models will be initially made in the group's Luqiao plant, which is the same plant Volvo will use to produce its XC40 for the local market.
Besides, Volvo-which now holds 30 percent of Lynk & Co's equity-will give a hand in the overseas markets in other aspects, including its sales and after-sales channels, according to An.
The Swedish marque is also helping to boost the design and quality of the new generation of Geely-branded cars, whose sales from January to July surged nearly 90 percent year-on-year to 621,731 vehicles.
Geely has scaled up its whole-year sales goal to 1.1 million vehicles.
In the first half of the year, the Hong Kong-listed carmaker posted operating revenue of 39.4 billion yuan ($5.9 billion), up 118 percent year-on-year.