Car-hailing sector funding, deals see August boom, so far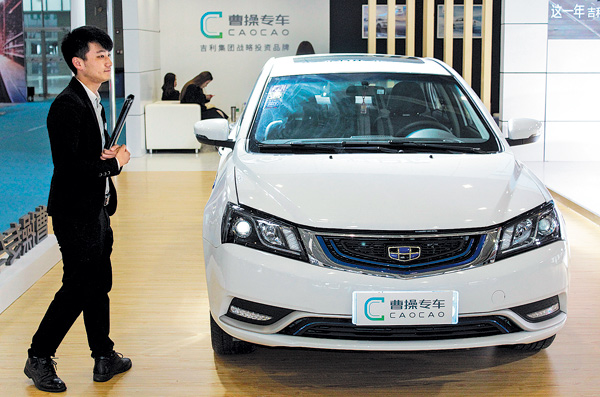 An electric model by Caocao Zhuanche and Geely is displayed at a new energy exhibition in Nanjing, Jiangsu province. [Wang Qiming / for China Daily]
It has been a busy August so far for Chinese chauffer and ride-hailing companies, who are looking to steepen their already headline-grabbing growth trends.
Caocao Zhuanche has attracted investors' interest with its ambitions for the nationwide market, while well-established Didi Chuxing and Shouqi Limousine and Chauffeur are looking further a field for new opportunities. The Hertz-backed Chinese car rental company, Shenzhou Zhuanche has launched an intelligent system for better allocating vehicles in its hailing business.
Hangzhou Youxing Technology, which owns Caocao Zhuanche, announced the service will be launching in five more cities, making it available in a total of 16 cities nationwide, including Guangzhou, Hangzhou, Tianjin and some tier-two and three cities. But it still has yet to crack Beijing and Shanghai.
"Our fleets are going to be expanded to a scale of 15,000 cars, or even up to 20,000 over the course of this year," said Liu Jinliang, chairman of Hangzhou Youxing, in an earlier interview with Chinese media.
The Zhejiang-province-based car-hailing service provider was launched in November 2015. Solely owned by Geely Holding, the company currently runs about 10,500 Geely Emgrand EV blade electric compact sedans. The company said it has attracted investor interest already and is evaluating its financing plan, although it is yet to reach a final deal.
The statement followed local media reports that Hangzhou Youxing was set to receive financing of around 1.5 billion yuan ($225 million).
On Tuesday, Shouqi Limousine and Chauffeur, a ride-booking app launched by State-owned automobile enterprise Shouqi Group, launched the further expansion of its international services, now extending to about 1,500 cities in 130 countries and regions on six continents by September. Currently, the overseas chauffeured ride-hailing service is offered in 217 cities in 30 markets.
Shouqi raised 600 million yuan in its B-round funding from an unnamed investor last month, valuing the company at 5.1 billion yuan. Its A-round funding raised 220 million yuan, led by a subsidiary of China Jianyin Investment Co in December 2016. Didi Chuxing reported on Aug 8 it will inject funds into Dubai-headquartered ride-hailing company Careem. The two will form a partnership by sharing technology, products and operations. Didi has also made a similar move with Estonia's Taxify this month.
This has been a trend for the largest Chinese mobility company by revenue.
It is expected to offer services in more than 1,000 cities all over the world after signing partnerships with a multitude of foreign players, including Lyft, GrabTaxi, Ola and 99Taxis.
"Chinese car-hailing service providers are going to dominate about 80 percent of the world's market share in the near future," according to an industrial insider who declined to be named.
The market commentator calculated that Chinese companies, including Shouqi and Didi, currently share about 30 percent of the global market, mainly in the North American, East Asian and Southeast Asian markets, while Uber is losing ground.