Used car sector motors into a modern era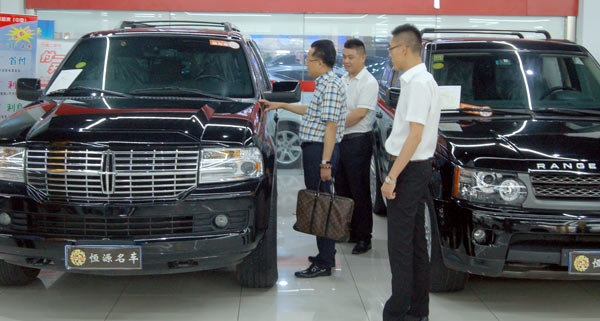 A customer (left) checks a second-hand car at an automobile trading company in Suzhou, Jiangsu province. [Photo by Wang Jiankang/For China Daily]
The introduction of big data and artificial intelligence has helped resolve the perennial credibility problems of the used car market, providing more opportunities for the sector, analysts said last month.
"There is huge growth potential in China's used car market," said Zhao Xiang, a transportation analyst at Beijing-based Analysys, a market research house.
"With the rapid development of the market and the increase of assessment techniques, consumers' expectations of a used car are continuously rising," said Zhao Xiang, a transportation analyst at Analysys.
While the market is growing rapidly, credit issues have always acted as a brake on the development of the used car market.
In response, players have introduced big data and artificial intelligence to reduce the various transaction risks, the biggest of which are problems with credit.
Guazi.com, China's biggest used car trading platform, said that in order to address credit issues, it has developed a database using big data and artificial intelligence.
Chief Technology Officer Zhang Xiaopei said the database stores information on more than 3.5 million cars and from 200 million buyers and sellers. In addition, it includes a huge amount of third party data, about the maintenance and repair history of the cars.
"With the database, the information on used cars as well as buyers and sellers is more transparent, which has greatly increased transaction security," Zhang said.
He said that with the help of the database, the car trading platform's transaction volumes had grown by 700 percent last year.
Guazi.com recently announced over $400 million in Series B financing from global investors, making it one of the biggest fundraisings this year among Chinese internet companies.
The capital will be used for developing new business lines and increasing brand awareness, as well as developing the skills base of the company's staff.
The new round of financing is being led by existing investor Sequoia Capital, a leading venture capital firm. Matrix Partners China, Blue Run Ventures and Hike Capital increased their investment.
Other participating investors include H Capital, Dragoneer Investment Group, China Merchants Bank and Shougang Group. China's leading boutique investment bank, TH Capital, was the exclusive financial advisor on the deal.
"In order to transform the traditional industry, we also need to depend on online techniques. Guazi.com will continue to improve our business and service by knowing more about customer behavior through our data analysis," said Guazi.com founder and CEO Mark Yang.
The company has created a database of over 3.5 million cars and over 200 million potential customers. Powered by artificial intelligence, Guazi.com is making it faster and easier for consumers to buy and sell used cars through predictive pricing and enhanced knowledge of customer preferences.
Steven Ji, a partner of Sequoia Capital China, said that Guazi.com is leading the development and evolution of the industry, and has major growth potential.