Authorities throw full force into supporting new energy sector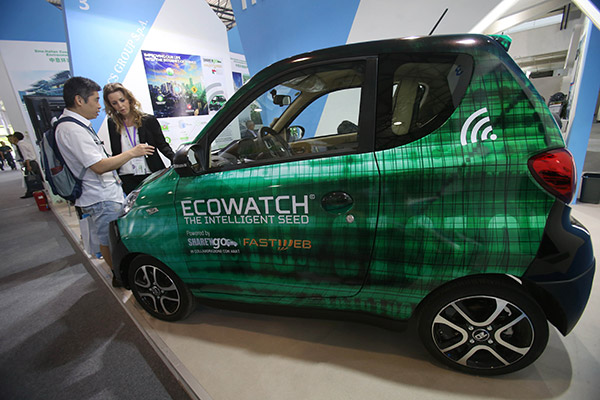 A worker introduces an electric model designed in Italy and produced in China to a visitor at the 15th China International Environmental Protection Exhibition Conference in Beijing. [Photo/China Daily]
Revised policies seek to phase out gas-powered car production, boost investment in next generation of mobility
China is to produce more and better new energy vehicles in the coming years as a slew of policies have been announced to spur the sector's development in the country, according to analysts.
Last week, the National Development and Reform Commission, China's top planning body, voiced its support for international cooperation in the sector.
"Carmakers are encouraged to make the most of international technologies, capital and human resources to raise the level of China's new energy vehicle sector," said the commission in a document compiled in conjunction with the Ministry of Industry and Information Technology.
To facilitate the cooperation, the authorities even removed the limit on the number of joint ventures international automakers can have in China - two in one segment, as stipulated in the decade-old industry guideline.
"The restrictions apply only to gasoline car joint ventures," said the document.
Peng Yong, an analyst at BOC International, a securities company, said in a report that the move means more partnerships like JAC-Volkswagen will emerge.
In May, German automaker Volkswagen partnered with JAC Motors to develop, produce and market electric vehicles and mobility services in China.
The 50:50 partnership, with a total investment of 6 billion yuan ($882 million), makes Volkswagen the first foreign automaker to have three partners in China.
Peng said such cooperation with competitive international carmakers is expected to improve Chinese companies' technical levels and see the sector make rapid progress.
The document reiterated China's intention to curb the capacity of gasoline car plants and to promote the development of new energy vehicles.
"In principle, new plants to produce gasoline cars are not to be approved," it said.
The document went on to say that those who want to expand existing plants dedicated to gasoline cars have to meet several criteria, with one of them being producing more new energy cars than average carmakers do.
In contrast, the authorities said in the document that they support social capital and technologically competitive companies entering the sector of new energy cars and their key components, and will guide traditional gasoline carmakers to speed up efforts to shift into new energy vehicle production.
As a whole, Peng said, the document is expected to change the supply side so that more new energy vehicles will be offered.
China started the effort last year, and so far the authorities approved 15 new companies to build new energy vehicles, with their combined capacity set to reach 800,000 vehicles per year.
But the nation's stimuli did not stop there. Last week, the Ministry of Industry and Information Technology released a plan to introduce a credit scheme for new energy vehicle production.
According to the scheme, automakers who produce more than 50,000 cars a year will be examined in terms of new energy vehicle production. Those who fail to meet the goals will have to buy credits from other automakers or be fined.
According to the proposed scheme, new energy vehicles' credits should account for 8 percent of an automaker's total in 2018, 10 percent in 2019 and 12 percent in 2020, with one new energy vehicle calculated as one to six units depending on factors such as their mileage on one charge.
Ping An Securities said in an industry report that the scheme shows China's commitment to the new energy vehicle sector, arguing that it will prompt carmakers to come up with models with better quality and longer mileages.
Ping An estimated that new energy car sales this year could reach 700,000 vehicles, with 500,000 of them being passenger cars, and the performance would be even better in 2018, when the scheme is implemented.
China has been the world's largest new energy vehicle market since 2015.
Its sales in the first five months of this year totaled 136,000, for 7.8 percent growth year-on-year.
China is expected to build a globally competitive automotive industry within 10 years, with new energy vehicles one of its top priorities, according to an industry guideline released in April.
Among other goals, China expects sales of electric, plug-in hybrids and fuel cell cars in the nation to reach 2 million by 2020, and such cars are to account for 20 percent of all auto sales by 2025.
"We are lagging behind developed countries in terms of traditional gasoline cars, but we have laid a good foundation and now enjoy favorable conditions in terms of new energy vehicles," said Minister of Industry and Information Technology Miao Wei.