Auto, tech specialists form alliance to guide future collaborations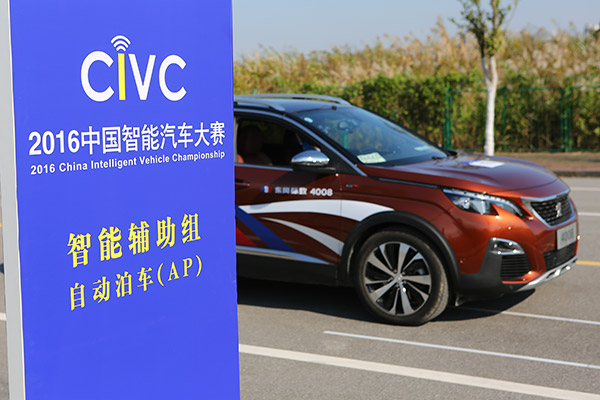 A Peugeot model demonstrates automatic parking at an intelligent vehicle competition in Shanghai. [Photo/China Daily]
China's automobile industry has founded a strategic alliance, hoping to spur research and developing in intelligent and connected vehicles, while national guidelines are on the way.
The Ministry of Industry and Information Technology is expecting intelligent vehicles to rise up and lead the industry's future development, after the success of the new energy vehicle sector was somewhat undercut by fraudulent subsidy claims.
"Intelligent and connected vehicles will be the breakthrough point for the country's automobile industry to transform and upgrade," said Miao Wei, minister of industry and information technology, in his speech last week in Beijing during the founding ceremony of the China Industry Technology Innovation Strategic Alliance for Intelligent and Connected Vehicles.
"The world is entering into a phase of fierce competition in intelligent vehicles. It has strategic significance in shaping the industrial system, promoting innovation, improving traffic safety and cutting energy consumption and emissions," he said.
A total of 98 carmakers, universities and institutes have joined hands in the alliance led by the Society of Automotive Engineers of China and the China Association of Automobile Manufacturers.
The alliance was designed to serve as a think tank for the country's intelligent and connected vehicle industry and to transfer new technologies into mass production. The core mission of the alliance includes promoting crossover collaboration, improving national industrial standards and encouraging sustainable development.
Miao noted that becoming intelligent and connected is the future for vehicles, so crossover collaboration among sectors is necessary for the trend.
Thanks to breakthroughs in wireless communication, vehicle users now spend 91 hours connected to the internet during their journeys each year, so cooperation between the carmakers and telecommunication service providers is a must, according to Kurt Lehmann, chief technology officer of Continental.
He also said: "Artificial intelligence is a key factor, but it will work after a big data sharing platform is established for automakers and suppliers".
The German automotive technology company has been working with China Unicom, one of the largest Chinese wireless communication groups, in the world's largest auto market. Continental just entered into strategic cooperation this month with Baidu to work on automated driving and connected vehicles.
Baidu, one of the biggest dotcom companies in China, is the only information technology company among the nine deputy councilors of the strategic alliance for intelligent cars that includes FAW Group, Changan Automobile, Tsinghua University and five research institutes.
The alliance believes China has profound potential in intelligent and connected vehicles, as it has strong policy support from the government and a solid foundation of information technology with such companies as Huawei, Tencent and Baidu at the helm. The ministry is drafting its guidelines for the development of intelligent cars, with the intention of establishing a coordination system for the sector. The next step will be improvements to design, laws and regulations, core technology, infrastructure and cyber security.