GAC Motor eyes intl markets, sustainability for growth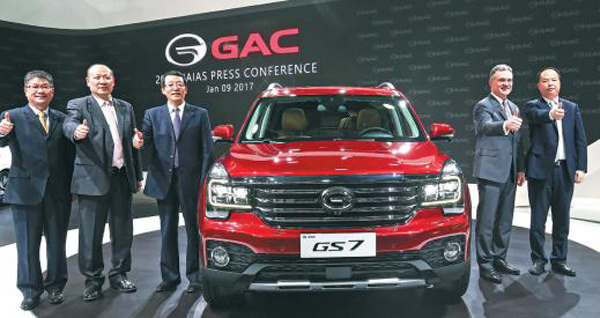 GAC Motor exhibits its products at the North American International Auto Show in Detroit, the United States, in January, attracting the attention of global industry insiders. [Photo provided to China Daily]
GAC Motor, the only Chinese carmaker joining Michelin Movin'On-the global sustainable mobility summit in Montreal, Canada-and an important partner of Michelin, will develop more customized products to meet market demand for sustainable mobility, according to a senior company executive.
"The company's strategy of making market-oriented products plays a key role in its sustainable development. The future of driving will feature more electricity-driven mobility," said Yu Jun, president of GAC Motor.
Yu made the remarks during his key speech during the Movin'On summit, which was held from June 13-15 in Montreal to promote sustainable mobility solutions.
"We always have great respect and appreciation for the sustainable mobility market. In the field of new energy, the best solution is not to prescribe one certain outcome, but to experiment and explore different pathways together and let the market make the final choice," said Yu.
Though the transition period from traditional power to full electric power may be long, as Yu pointed out, GAC Motor's own revolution in the new energy vehicle sector is now in full swing, with the company's plans to introduce seven new energy vehicle models, including both electric and hybrid plug-in designs, to the market this year.
While structuring a sustainable development strategy to engineer trustworthy, environmentally friendly vehicles that excel in design, performance and reliability, GAC Motor has set a practical goal of selling 1 million vehicles by 2020, among which 20 percent will be new energy vehicles, according to the company.
Established in Guangzhou, the capital of South China's Guangdong province, in 2008, GAC Motor has achieved an 85 percent compound annual growth rate for six consecutive years.
In the first five months of 2017, the company refreshed previous records with 207,000 cars sold, marking a 62.2 percent year-on-year increase.
"We are not only looking at selling more cars, but also reinventing the way people travel," said Yu.
GAC Motor's innovation-driven strategy has attracted the attention of global industry insiders.
The company is expanding a global automotive R&D network supported by its technology center, top global suppliers and research institutions.
GAC Motor has already established a presence in the Middle East by introducing its signature models, including the GS8 and GA8, as the initial stage of entering global markets. It is also adding more distribution channels to its strongest markets.
Also, GAC Motor has signed a strategic partnership with the world's top 10 auto suppliers, including Michelin, Aisin Seiki, Continental and Faurecia.
"By expanding our footprint in countries related to the Belt and Road Initiative as well as the European and the United States markets, we will create a high-end brand image to enter the global market as a world-class automaker that excels in research, manufacturing and sales," said Yu.
The company has established a global sales and services network covering 14 countries. It has also launched its talent recruitment program to gather skilled people in the fields of engineering and technology R&D, marketing, and communications and management.
After the establishment of its first North American R&D center in Silicon Valley by parent company GAC Group, GAC Motor is set to enter the US market no later than 2019, according to Yu.
"We believe safety, energy conservation, environmental-friendliness and comfort are consumers' direct needs," said Yu. "By launching quality and premium models to global customers, GAC Motor will be creating a new transportation ecosystem and promote the sustainable mobility of human beings."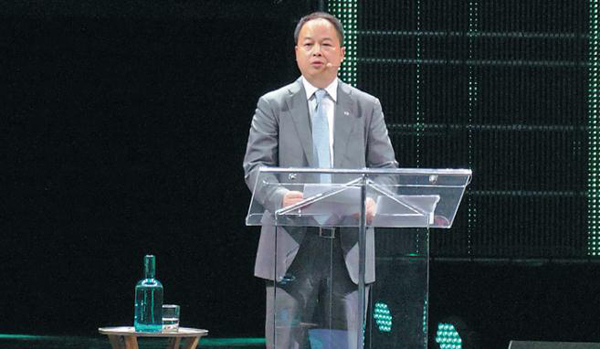 Yu Jun, president of GAC Motor, delivers a speech at the Michelin Movin'On event in Montreal, Canada. [Photo provided to China Daily]
Q+A: Yu Jun
Before the opening of Movin'On 2017, the world's preeminent international summit on urban mobility and sustainable transportation held on June 13-15, Yu Jun, president of GAC Motor, talked to China Daily about the company's vision of developing sustainable mobility.
GAC Motor's latest models, the GS4 and GS8, have been hot sellers in the market. Do highSUV sales play a crucial role in the company's business?
SUVs have become hot sellers in the entire Chinese market. As a local Chinese carmaker, GAC Motor has developed SUV models with high quality and top design to meet the market demand. Our models, including the GS4 and seven-seat GS8, are very competitive in the Chinese market, which is traditionally dominated by foreign brands. For sustainable development, we will make more market-oriented vehicles, not only in the SUV sector but in sedans and new energy cars, to diversify product varieties.
How is GAC Motor preparing for the development of sustainable mobility?
We are aiming to develop into a world-class Chinese car brand-a long-term vision for us. We are transforming into an international carmaker in terms of production, sales and research. In developing sustainable mobility, we will give priority to quality and technology in the production and sales of vehicles. We will also export more cars to overseas countries and regions, aiming to boost our presence in the international market.
GAC Motor has seen rapid sales growth in recent years. Do you see any obstacles that will affect the business in the near future?
Production capacity and supplies of core components will be major concerns for us. In this regard, we have been making great efforts to expand production capacity by optimizing our current manufacturing lines and building more factories. We have started construction of new plants in the Xinjiang Uygur autonomous region, as well as Zhejiang and Hubei provinces. We have also signed agreements with key international suppliers during this year's Shanghai auto show.