Thunder Power to join electric car race in China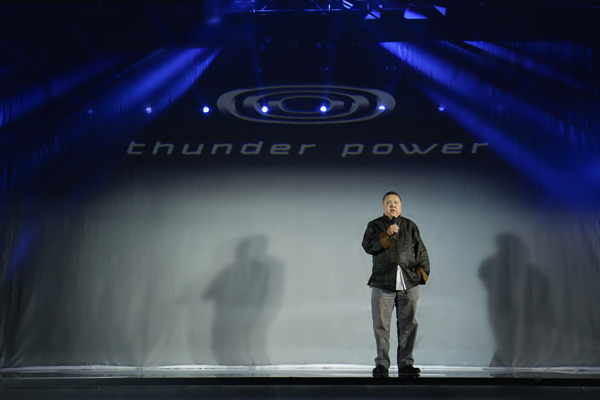 Thunder Power Chairman and CEO Wellen Sham gives a speech on May 23 in Beijing. [Photo provided to chinadaily.com.cn]
Thunder Power, a Hong Kong-based startup carmaker, has debuted its brand in Beijing, unveiling ambitious plans to tap into the world's largest new-energy vehicle market.
It has been 21 months since the startup premiered its first concept vehicle at the 2015 Frankfurt International Motor Show.
A prototype electric sedan shown on May 23 features a 125 kWh battery capacity, providing a range of up to 650 km, a new benchmark in the EV industry. Half an hour charging will enable it to run 300 km, according to the carmaker.
The range is the result of its lightweight body, low air drag and more efficient battery pack, according to its Chairman & CEO Wellen Sham, a Chinese American born in Hong Kong.
With a choice of motor options available, the sedan offers system power of up to 430kW, ensuring no compromises in driving pleasure for tomorrow's striving consumer.
Sham said Thunder Power's core competence lies in its proprietary technologies in the fields of battery management, thermal management and chassis technologies.
With over 350 patents filed in the US and China, more than 70 have already been granted, including a modular chassis system which allows the development of future models in different segments in a faster and more cost-effective way than the traditional approach.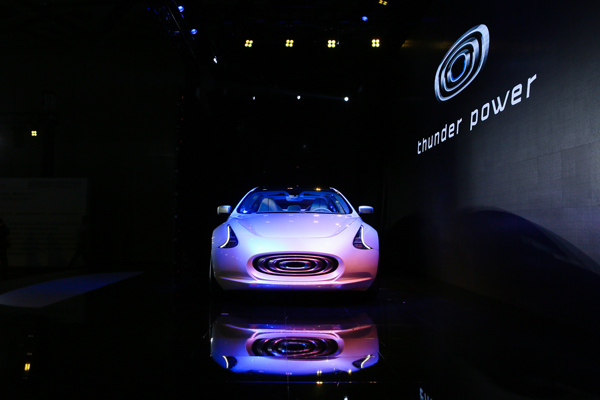 Thunder Power shows its prototype sedan on May 23 in Beijing. [Photo provided to chinadaily.com.cn]
Production is due to start for Asian markets in late 2018 at its plant in Ganzhou, Jiangxi province — the result of a multibillion yuan partnership with a local industrial fund.
By 2022, the plant's production capacity is expected to reach 100,000 units a year, with its total investment to reach 7.2 billion yuan ($1.05 billion).
Sham said Thunder Power has also commissioned JP Morgan to finance $500 million for its development.
Christopher Nicoll, the carmaker's sales and marketing director, said the company will take a city-by-city approach and first target at non-first time car owners.
The automotive veteran, who worked at Jaguar Land Rover and Fiat, said the brand will build a network of 100 dealerships by 2021 in China and 50 dealerships in Europe.
Thunder Power has recently signed an agreement with the Catalan authorities in Spain to build its European manufacturing site in the country.
When asked about future products, Sham said they will feature more cutting-edge applications.
"Our next generation of products will continue to focus on incorporating technology to enhance the driving experience, but some of the key focal points will be to converge a selection of applications, electrification and autonomous driving capabilities, such as optimizing 3D parking and integrating biometric sensors."