Jaguar Land Rover homes in on China market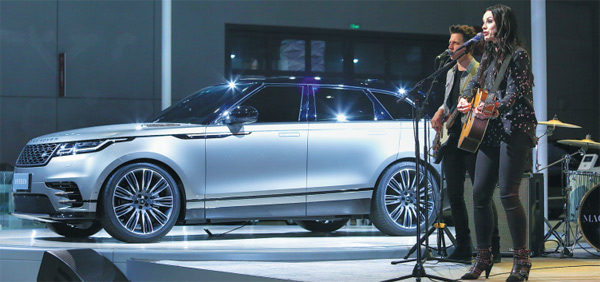 British pop star Amy McDonald performs to debut Land Rover's brand new Range Rover Velar at the Shanghai auto show on Wednesday. [Photo provided to China Daily]
Jaguar Land Rover is set to make the most of its China experience and resources for its global business, as Britain's largest carmaker is seeking to transition its internal combustion engine-based business into one that features autonomy, connectivity and electrification: a move from ICE to ACE, as the company puts it.
With almost 120,000 vehicles sold in 2016, China is Jaguar Land Rover's largest single-country market, accounting for one fifth of its global sales.
Ralf Speth, Jaguar Land Rover CEO, said: "China is not only the largest automotive market in the world, but also has the greatest development potential."
Speth made the remarks at the ongoing Shanghai auto show where the brand is showcasing a stellar lineup, including two groundbreaking new models: Land Rover's Range Rover Velar and Jaguar's first electric concept I-PACE.
To make the most of the Chinese market, the British brand appointed Pan Qing earlier this year to head its business in the country, making him the first mainland-born person to sit on the board of an international automaker.
"Pan's appointment to JLR's global board will directly feed back local insights and customers' requirements to the UK. We will be able to utilize this knowledge from our most important market in future research and development," said Speth.
Chinese customers bought 2 million premium cars last year and Pan, executive director of Jaguar Land Rover China, expects the country to surpass the United States to become the world's largest premium car market by 2025. The country is already the largest market for new energy vehicles.
Statistics from the China Association of Automobile Manufacturers show that more than 320,000 new energy vehicles were sold in the country during 2016, a year-on-year increase of 84 percent.
Pan said: "We believe the new energy vehicle segment will continue its rapid growth thanks to the great support from the government, the increase in consumer recognition, and enhanced facility development.
"Jaguar Land Rover is actively leading this trend. We invest more than 15 percent of our revenue annually into research and development, and the I-PACE concept personifies our technology achievements."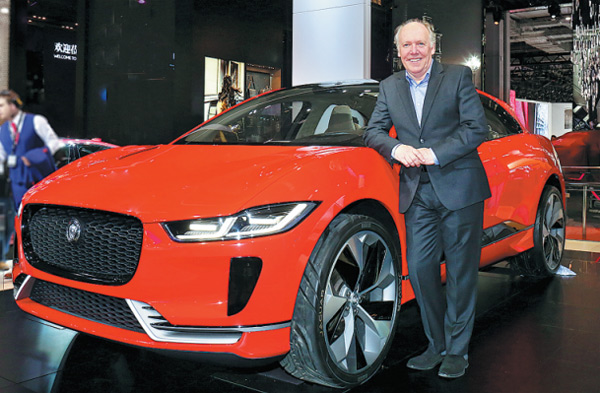 Ian Callum, Jaguar's design director, presents his latest work at the ongoing Shanghai auto show: the concept I-PACE, the marque's first pure electric model, which will hit the Chinese market in 2018. [Photo provided to China Daily]
The Jaguar I-PACE, which is making its Asian debut at the Shanghai auto show, has been engineered without compromise to deliver groundbreaking style, long-distance range, fast charging times and exhilarating performance.
The production model will be revealed later this year and China will be one of the first markets globally for I-PACE sales in 2018.
Speth said half of all Jaguar Land Rover products will have new energy variants by 2020.
Another highlight at the company's stand is the new Range Rover Velar, which is set to begin another new chapter in the Jaguar Land Rover story.
The company said the Velar will be built exclusively in Britain, using Jaguar Land Rover's leading lightweight aluminum architecture, and will be powered by the latest ultra-clean UK-built Ingenium petrol engines. The new Velar is positioned between the Evoque and Range Rover Sport.
"Jaguar Land Rover is a technology company, creating world-class premium cars. Jaguar Land Rover constantly pushes the boundaries, and this spirit is embodied in both of these vehicles," said Speth.
Localized operations
Jaguar Land Rover is growing fast in China, having established a presence in the country over a decade ago and starting localization in late 2014.
Within 28 months, more than 100,000 vehicles-the Range Rover Evoque, Land Rover Discovery Sport and Jaguar XFL-rolled off the production line at its plant in Changshu, Jiangsu province.
Ralf Speth (left), Jaguar Land Rover CEO, and Pan Qing, member of Jaguar Land Rover's board of management and executive director of JLR China.
Pan said: "At JLR, we will strengthen our localization process and redefine our two classic British brands, while optimizing our product portfolio and upgrading our customer experience to ensure that we deliver a peerless package."
Frank Wittemann, president of Jaguar Land Rover China and Chery Jaguar Land Rover Integrated Marketing, Sales and Service, said: "We pay more attention to the quality of our products and services rather than the number of sales.
"Both Jaguar and Land Rover have renowned heritage and appeal, which includes Land Rover's all-terrain capabilities and Jaguar's performance DNA.
"We will preserve these legacies and further strengthen our products and services to give Chinese customers experiences they will love for life."
To build on this promise, the automaker is also exhibiting the 2018 Jaguar F-PACE at the show-winner of the "2017 World Car of the Year" and"2017 World Car Design of the Year" awards at the World Car Awards Ceremony held during the New York Auto Show earlier this month-as well as the all-new Land Rover Discovery and Jaguar XFL, the first locally produced Jaguar model.
This star lineup demonstrates Jaguar Land Rover's forward-looking design, industry-leading technologies, profound brand appeal and commitment to China, according to the company.
To complement the product lineup, the Innovation Lab at the Jaguar Land Rover stand allows visitors and fans to experience the company's advanced technologies and explore the story behind its pioneering all-aluminum frames.
In the Jaguar Formula E VR Experience Zone, they get the chance to understand what it's like to be on the track at a Formula E race.