Upward market trajectory holds steady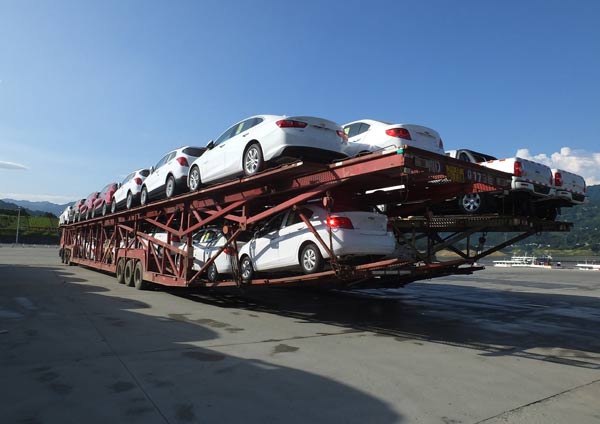 Cars made in Hubei province are ready to be delivered to the rest of the country via a Yangtze River port. [Photo by Liu Junfeng/For China Daily]

The past year saw the solid development of China's automotive industry, with new policies to regulate and stimulate the market, and new business models to drive the sector's growth, Hao Yan reports.
China to allow car selling without brand authorization
The Ministry of Commerce unveiled new automobile sales administrative measures on April 14 allowing auto trading companies to sell vehicles without gaining authorization from carmakers in advance.
The new measures will go into effect in July.
In the future, both authorized and unauthorized car sales will be allowed, and automobile retail markets, stores and e-commerce outlets will be the new ways to sell cars in China.
The ministry hopes the new measures will improve sales and after-sales services across different auto brands, an approach that is expected to save resources and improve efficiency and services.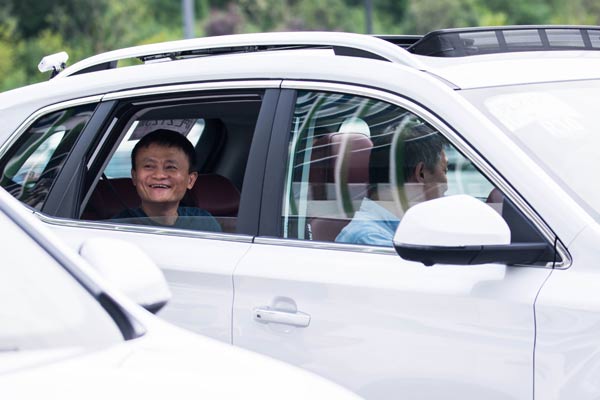 Alibaba Chairman Jack Ma takes a ride in the OS'car, the world's first internet car, which was developed by Alibaba and Roewe. [Photo by Xu Kangping/For China Daily]

Automotive market growth could slow to 5% this year
The China Association of Automobile Manufacturers predicted that the new car sales volume could hit 29.4 million vehicles this year, driving approximately 5 percent annual growth from 28.1 million cars in 2016.
The association also anticipated that passenger car sales volume could increase by 5 percent to 25.7 million vehicles this year from 24.4 million vehicles last year.
The association's research paints an optimistic picture for the market as more families will make their first purchases and more will replace their vehicles.
Tax cut for small engines set to prevent hard landing
Tax cuts were revised to 25 percent on cars with 1.6-liter engines and smaller in 2017, from the 50 percent tax cut in 2016, according to a document released by the Ministry of Finance in December.
Analysts believe the move will save the auto market from a hard landing in the new year since the 2016 tax cut policy expired.
Buyers of such vehicles this year will pay a tax rate of 7.5 percent of the tagged purchase price.
To boost stagnant car sales, the authorities introduced a measure in late September 2015 to halve the tax rate for small cars, which expired on Dec 31, 2016. The purchase tax usually stands at 10 percent of a car's sticker price.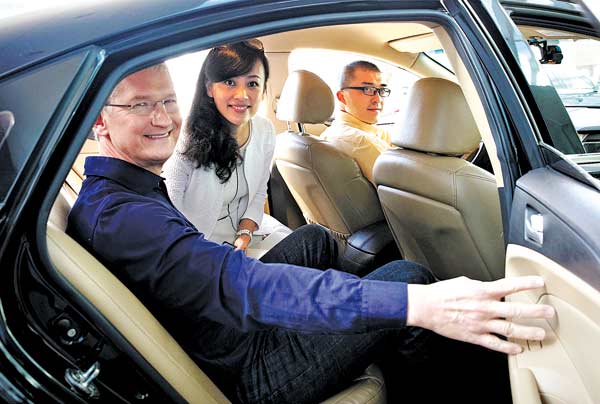 Apple CEO Tim Cook takes a taxi with Didi Chuxing President Liu Qing. Apple agreed to invest $1 billion in the car-hailing app in May 2016.[Photo provided to China Daily]
Stricter ride-hailing rules to boost users' safety
A total of 73 cities had released details for the administrative regulation of the internet ride-hailing sector as of March 17, and industry insiders believe the regulations are focusing on improving consumers' rights and safety.
Each of the cities asked service providers for registration of their local operation, vehicles and drivers. The majority of city governments now require both the vehicles and drivers to be locals. About 40 cities have announced a wheelbase requirement for vehicles and gave suggested prices for services.
Major platform operators have made their registrations accordingly and received permits in some cities.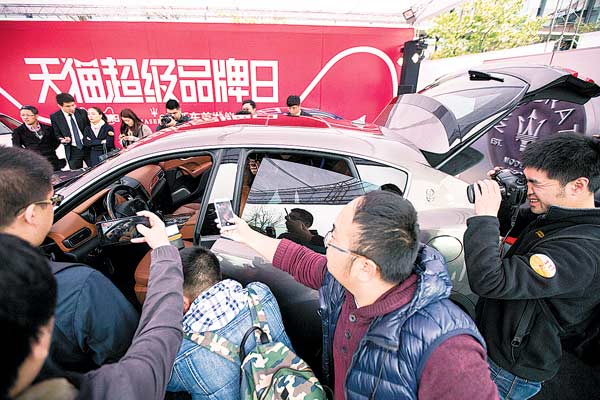 Maserati debuts its first SUV model in China in Hangzhou. The SUV sector is the most promising in China's auto industry. [Photo by Xu Kangping/For China Daily]

SUVs heating up as sales increase by 45.7%
Statistics show that more than 9 million SUVs were sold in 2016, marking a 45.7 percent rise year-on-year, 11 times higher than the 3.9 percent increase in sedans and hatchbacks which registered 12.1 million units in sales.
Industry insiders anticipate a higher growth rate for the SUV segment because as many as 85 percent of potential car buyers are looking at SUV models. They think the sales volume of SUVs could overtake the combined total of sedans and hatchbacks, and they believe it will highly likely happen in the next couple of years.
New energy vehicle makers punished for fraud claims
China punished a number of new energy vehicle manufacturers for fraudulently claiming subsidies, successfully retrieving the subsidies and imposing penalties for a total of 2.3 billion yuan ($333.5 million) as of February.
To prevent future market disruptions, China has adjusted the subsidy policies by lowering the amounts, setting upper limits and raising market-access standards.
Minister of Industry and Information Technology Miao Wei said the government will improve existing policies and strengthen regulation of subsidies offered to carmakers.
Finance Minister Xiao Jie said problematic new energy vehicle models will no longer get subsidies, and that the companies involved in the fraud are rectifying their problems.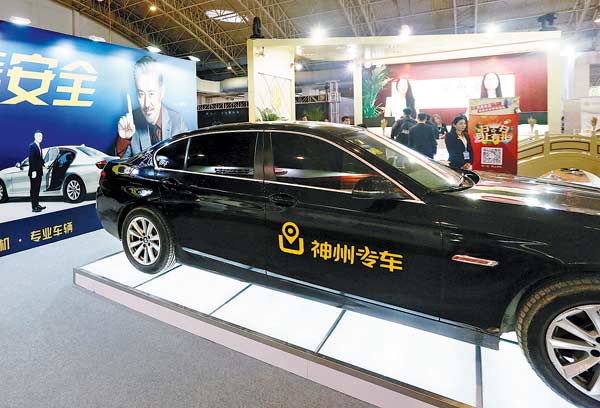 China Auto Rental showcases its internet-based car-hiring service at an internet-plus expo in Beijing.[Photo by Lei Kesi/For China Daily]

Mounting carmaker recall cases cost 21 billion yuan
Carmakers, both premium and volume, announced 14 recalls of some 770,000 cars in the two weeks leading up to the annual Consumer Rights Day Gala, hosted by China Central Television on March 15.
Statistics show that more than 11 million faulty cars were recalled in the country last year, more than double the figure in 2015. The recalls cost automakers 21 billion yuan ($3.04 billion) in total.
Of the recalls, more than 75 percent were prompted by the General Administration of Quality Supervision, Inspection and Quarantine - the country's top quality watchdog - based on its monitoring of overseas recalls and customer complaints.
The watchdog received 16,157 complaints about car quality in 2016 and, on average, one of every two complaints proved to be an indicator of a faulty product.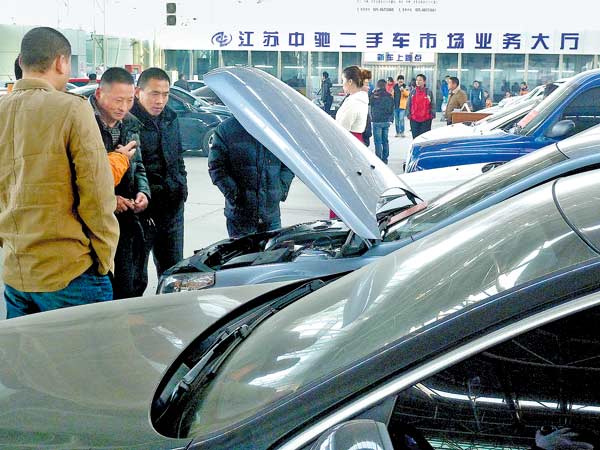 Potential buyers check out cars at a used vehicle market in Nanjing. [Photo by Wang Luxian/For China Daily]

Used vehicle sales up as trade barriers removed
Used car sales in China are gaining momentum as local authorities remove trade barriers and industry continues to push for reforms.
Industrial data show that 825,000 used cars were sold in February, a 41 percent increase year-on-year. That brought the sales in the first two months of this year up to 1.71 million vehicles, up 22.55 percent from the same period last year.
The ministries of commerce, public security and environmental protection released a notice in March, urging local governments to remove trade barriers on used cars and demanding they report how the task will be completed before April 14.
Volkswagen and JAC agree joint venture deal
German auto giant Volkswagen signed a preliminary deal with China's Anhui Jianghuai Automobile, also known as JAC Motor, to explore making electric vehicles in a new joint venture last year. Industrial insiders expected approval to be issued in the first half of this year.
The two sides are studying the feasibility of a joint venture and aim to sign a formal agreement within five months. Volkswagen said in its statement that the main goal of the cooperation was developing "zero-emission mobility".
The investment amount and business model of the possible joint venture have not yet been finalized, JAC said.
FAW-Volkswagen Audi in dispute with dealers
Fearing that a new sales network would damage their interests, FAW-Volkswagen Audi's existing dealers have made their displeasure clear ever since Audi signed a memorandum with SAIC in November for establishing another joint venture that might also be responsible for producing and selling Audi cars.
Dozens of Audi's 450 authorized dealers - which sell Audi cars made by FAW-Volkswagen Audi and imported models - have already stopped taking deliveries of imported cars and will likely join the boycott.
The move came after an Audi board member said on March 15 that if dealers in China lose trust in Audi, the company will not be able to force them to cooperate.
On Feb 16, the newly established Audi Dealer Association voiced a new wave of opposition to the German carmaker's intention to produce and sell cars with SAIC Motor.
South Korean brands' strength falls in Chinese market
South Korean marques are losing ground in China, as local brands in the world's largest auto market are offering improved quality and a wider choice of SUV models.
Hyundai Motor's sales volume in China fell 44.3 percent in March from the same month last year, while Kia Motors saw its March sales in the country plummet 68 percent. While March was the first month that Hyundai has seen its China sales fall this year, Kia's sales have been dropping for the whole quarter.
South Korean brands' failure to come up with the right models is another problem. SUVs are China's fastest growing segment, but Hyundai or Kia were missing from the top 10 best-sellers this year, most of which are from Chinese brands.
New rules set to govern low-speed electric vehicles
The Chinese government is set to fill in the existing regulatory gap to update national standards for low-speed electric vehicles in a move to improve both driver and pedestrian safety, and air quality.
The government is reportedly determined to regulate the sector, and experts are studying the regulations, according to sources in the working group for drafting the new regulations.
The local government in Dezhou city, Shandong province, has already begun scrapping those lower-quality vehicles that are unlikely to meet the new standards.
Under the existing regulatory framework, there are no rules governing the production and sale of electric vehicles with top speeds of less than 100 kilometers per hour.
This has resulted in a large number of cheap, poorly-made electric vehicles powered by polluting lead batteries, which threaten both road safety and the environment, the Ministry of Industry and Information Technology said in a statement.