FAW to open sales shops for Hongqi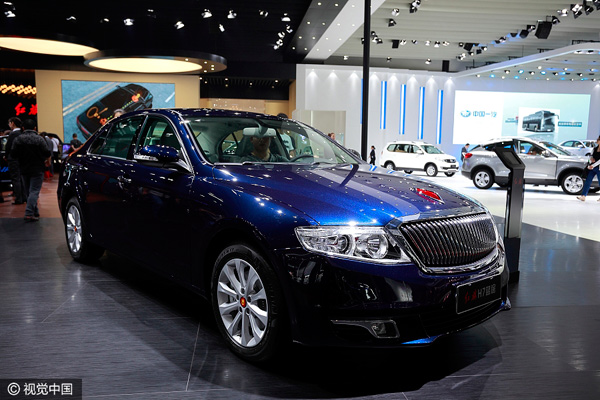 A Hongqi H7 car model on display at an international auto expo in Shanghai, April 27, 2015. [Photo/VCG]
CHANGCHUN - FAW, China's oldest automaker, plans to open 21 sales shops for Hongqi, or "Red Flag," the country's homegrown car brand, as it is striving to expand into the private car market.
Du Xiaodong, general manager of FAW Hongqi Sales Co Ltd, said the Hongqi H7 was aimed at the high-end car market.
He said that Hongqi would debut the fashionable H5 model and a renovated version of its flagship H7 model, with both hitting the market later this year, at the upcoming Shanghai Auto Show from April 21 to 28.
Du said 95 percent of Hongqi's first group of 21 sales shops would be run by auto dealers listed as in the country's top 100, with a background in selling premium brands.
Du said that by 2020 Hongqi would have eight models ranging from large family cars to compact cars and SUVs.
FAW's were originally built as official limousines. In 2013, when Foreign Minister Wang Yi abandoned his Audi A6 for the Hongqi H7 sedan, the industry anticipated a new dawn for Chinese brands, but only 3,000 H7s were sold that year.
Industrial insiders said that Hongqi products lack variety. Its flagship H7 model does not have solid market positioning, as it seeks both the business and private car market. In December 2016, only 1,001 Hongqi cars were sold.
Currently Hongqi has 22 showrooms nationwide, where H7 cars are the only exhibit.
Xu Ping, chair of FAW, said Hongqi represented self-dependent innovation, which would continue to be the principal of the brand's development.
FAW unveiled its first Hongqi SUV, the Hongqi LS5, in 2015, with a 4.0t twin-turbo engine and an eight-speed tiptronic. The company plans to adjust the brand to cater to younger customers.