Bosch to set up new plants in country this year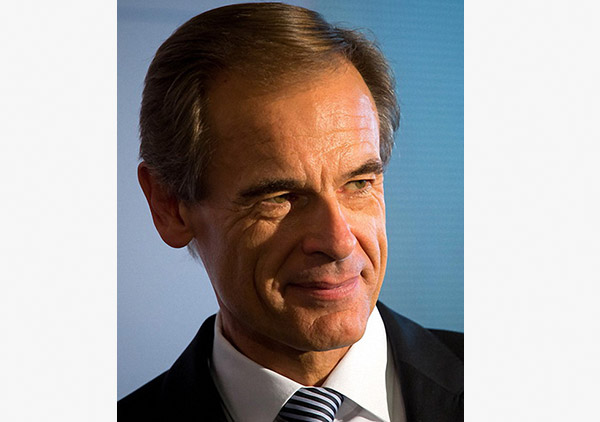 Volkmar Denner, chairman of Robert Bosch GmbH. [Photo provided to China Daily]
The chairman of Robert Bosch GmbH, the German mobility, industry and software conglomerate, said on Monday that his group would develop solutions for all spheres of the internet of things in China amid the country's consumption upgrading boom-including further investing in new plants this year.
The group said it would open a new joint venture for gasoline engine management systems in Chongqing, an automotive electronics plant in Changzhou, Jiangsu province, a power tools plant in Chengdu, and a thermotechnology joint venture with Guangdong Vanward New Electric Co Ltd, a gas appliance exporter based in Foshan.
Bosch Chairman Volkmar Denner told China Daily in an interview in Beijing that his company would develop connected mobility, smart city and smart home products from a long-term perspective.
"China's growing demand for high value-added products and services, especially for its automobiles, home-related service businesses and manufacturing projects, offers many opportunities," Denner said.
In 2016, Bosch invested around 5.4 billion yuan ($782 million) in China, including establishing a research and development facility in Suzhou and another one in Nanjing.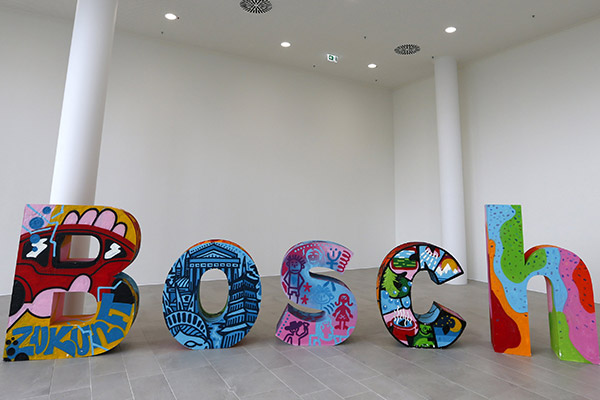 A colourful Bosch sign is seen before the official opening ceremony of the company's center for research and advance engineering Campus Renningen in Renningen, Germany, October 14, 2015. [Photo/Agencies]
In the connectivity business, Bosch focuses on sensors, software and services. The company has set up a local team for its connectivity businesses in China: the subsidiaries of Bosch Software Innovations, Bosch Sensortec and Bosch Connected Devices and Solutions.
"Bosch is convinced about the long-term potential of the Chinese market and we will continue to invest in China," Denner said.
Bosch's sales increased in its 2016 fiscal year.
According to preliminary figures, sales rose by 3.5 percent to 73.1 billion euros ($78.77 billion). In China, it posted double-digit growth last year, which meant China remained its second-largest market worldwide.
"We see China entering a phase of more balanced and sustainable development, through the transformation of economic development patterns and economic structural reforms," Denner said.
Bosch employs 60,000 people in China. At nine of its manufacturing plants in China, the company runs pilot projects following Germany's Industry 4.0 strategy. Industry 4.0 is a concept that promotes the digitalization of its manufacturing and the initiative is now being hailed as the way forward for manufacturing companies.
The first Chinese Industry 4.0 pilot project in Suzhou started three years ago.
Starting this year, Bosch will export products manufactured at its China facilities to European countries via the China-Europe railway, a new move to participate in the fast development brought about by the Belt and Road Initiative.
According to Bosch, a large number of mobile machines produced by China's original equipment manufacturers are equipped with Bosch's drive and control solutions. They are showing excellent performance.
Bosch is also supporting Chinese OEM customers, including SAIC-GM-Wuling Automobile Co in Indonesia and SAIC Motor Corp Ltd in Thailand, with its mobility solutions to develop their businesses in the markets of the Association of Southeast Asian Nations.
"Even though the shift by many multinationals is still in the early stages, it will have profound economic implications for both themselves and the Chinese market, because it comes at a time when many developing economies along the initiative are counting on China to develop urbanization and manufacturing projects," said Sun Fuquan, an analyst at the Chinese Academy of Science and Technology for Development in Beijing.