Startups race for position in China's new energy market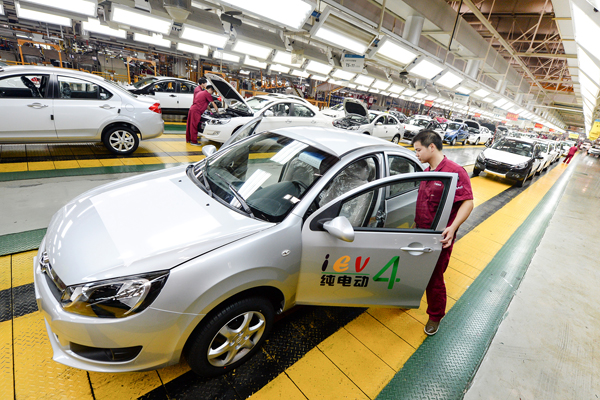 Technicians examine electric cars at a production line of JAC Motors. The automaker will start manufacturing cars for its partner NextEV later this year. PROVIDED TO CHINA DAILY
More players, both Chinese and overseas, are heading for the fledgling sector
China's electric car startups are racing to position themselves with a first-mover advantage with the aim of seizing the burgeoning market, which the government hopes will sell 2 million cars a year by 2020.
Beijing CHJ Automotive Technology inked a deal with local authorities last week to build its second production facility in Changzhou, Jiangsu province, within six months of its first plant starting operation in the same city.
The plant, with an investment of 3 billion yuan ($436.7 million), will start construction in the second quarter. When completed in 2018, it will be capable of producing 100,000 electric and plug-in SUVs a year, according to a statement from the company.
"Our first plant is dedicated to two-seat electric cars. As such cars have different technical requirements from SUVs, we decided to build another facility for the large vehicles," said Liu Jing, CHJ's public relations director.
Liu said both the two-seater and the SUV will hit the market in 2018.
"We do not have a concept car, as it is costly and time-consuming," she said.
NextEV, an electric racecar startup, plans to roll out its first model this year with its partner JAC Motors and another is expected in 2018, according to its founder William Li.
The carmaker, backed by Tencent Holdings and investment firm Hillhouse Capital, impressed commentators late last year in London with its racecar Nio EP 9.
The model sprints from 0 to 100 kilometers per hour in 2.7 seconds and is currently the fastest electric car around the Nürburgring track in Germany, with a 7 min 5 sec lap time.
Li said the model shows NextEV's research and development ability, but the focus of the carmaker is to produce cars that are affordable for the public.
Yudo New Energy Automobile will premiere its first two models at the Shanghai auto show in April. The two models, a small-sized and a medium-sized SUV, will hit the market in June, according to news website D1ev.
If those new players' cars sell well, they will motivate traditional automakers to come up with competitive models, but if they don't, the sector as a whole will be negatively affected, said Wang Binggang, a senior expert on China's national new energy car program, in an interview with the National Business Daily. Nevertheless, more entrepreneurs are heading for the sector. On Feb 18, Far East Smarter Energy inked a deal with Detroit Electric Holdings to build electric cars in Yixing, Jiangsu province.
Jiang Xipei, chairman of Far East Holding, parent company of Far East Smarter Energy, said: "Given that China expects to have 5 million new energy cars on its roads by 2020, we want to seize this opportunity."
The plant, with an investment of $1.8 billion, will start construction this year and the first car is expected to roll out in 2019.
The deal came about one month after Future Mobility Co, with its leaders comprising former BMW and Infiniti executives, announced it will build a plant in Nanjing, also in Jiangsu province, to manufacture mid-size electric SUVs.
China has been the world's largest new energy car market for some time. The market saw 517,000 electric car, plug-in hybrid and fuel cell sales in 2016, about 1.8 percent of all cars sold in the country.
Xu Haidong, a senior official of the China Automobile Manufacturers Association, expects new energy car sales to grow at a decent speed despite dwindling financial incentives from the government. "Sales will hit at least 700,000 vehicles this year and are likely to even reach 800,000," said Xu.