Govt puts brakes on car-hailing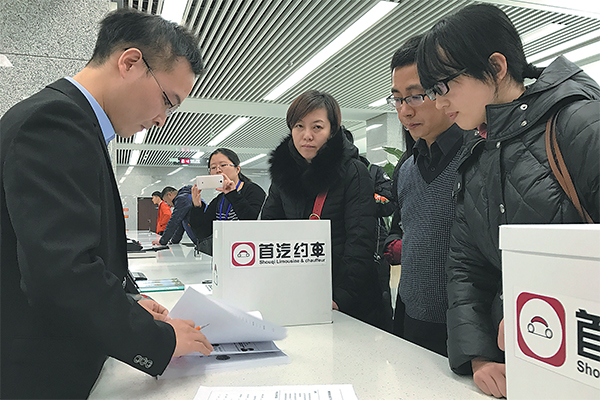 Representatives from car-hailing service provider Shouqi Limousine & Chauffeur submit materials to apply for licenses after the new rules were issued in Beijing. [Photo provided to China Daily]
New rules to throw out non-local cars, drivers
Ye Xiaobai has made up his mind to buy a car with a license from neighboring Hebei province, although such a car is not allowed to go downtown during rush hour on work days in Beijing.
"It is not a good idea but I have no choice," said the 29-year-old IT engineer living in the capital city's Tongzhou district.
Ye said he needs a car because his wife is now pregnant. But, winning a Beijing license means you have to be very lucky: only one in every 745 applicantions won in the October draw.
He said what prompted him to make the tough decision is that the government has tightened controls on car-hailing services including Didi Chuxing. Ye and his wife hail a cab through the online platform to the subway station 7 kilometers away in the morning and back to home after work in the evening.
On Wednesday, the authorities in Beijing and Shanghai introduced new rules that demand drivers from car-hailing platforms have local household registration, that vehicles must have local license plates, and that the cars be larger than compact vehicles.
Ye worries the move will slash the number of cars available on the platforms. "It is common sense. How many Beijing people who drive a Volkswagen Passat or Toyota Camry will come out to drive as Didi drivers?"
Many people are set to lose their jobs, including Tian Wenzhang, who moved from Central China's Henan province to seek his fortune in Beijing.
"I am not well educated and jobs I can do at plants give a monthly pay of about 4,000 yuan ($575.5), but driving a Didi car I can earn around 7,000 yuan a month. Now it seems the good days are over," he said.
"But I am puzzled. If Didi drivers have to be local people, why not stipulate that all construction workers, waitresses and breakfast sellers should be locals too?"
Didi did not release statistics about drivers in Beijing, but it said when the two cities released the stringent rules for public opinion in October, that merely 10,000 out of 410,000 drivers registered in Shanghai were locals.
The car-hailing service giant said it helps 2.07 million drivers to achieve a daily income of 160 yuan across the country.
Ma Rui, a senior official at the Beijing Municipal Commission of Transportation, said only 25 percent of the suggestions received during the opinion collection period opposed regulation on drivers' household registration.
But, experts have voiced their doubts about the new regulations. Zhu Wei, a communication law researcher at the China University of Political Science and Law, said the authorities should make public the sources and content of the suggestions they have collected.
Zhang Xu, an auto and transport analyst at consulting firm Analysys, told online news portal Ifeng that the transport authorities do not take the market demand for carhailing service into consideration.
Statistics show that there are now 66,000 taxis in Beijing, merely 10,000 more than 20 years ago, while the city's population has doubled in the same period to 21.7 million.
As it is usually difficult to get a taxi in the city, especially when the weather is bad, car-hailing apps became popular among people thanks to quicker responses and more pleasant ride experience. They have therefore affected taxi drivers' income. The transport authorities said the new regulations are not aimed at local protection, but are designed to differentiate their services from taxis.
Zhou Zhengyu, head of the Beijing transport commission, said: "We are making efforts to integrate the development of the traditional taxi industry and car-hailing industry."
He said that unlike many other countries, China has already given legal status to car-hailing services.
The regulations in Shanghai have taken effect and the authorities in Beijing have decided to give a five-month buffer for car-hailing drivers like Tian.
"I have no idea what I will do after the five months. Maybe I will become an unlicensed cab driver like those you find waiting for clients at subway stations or try my luck in other jobs."