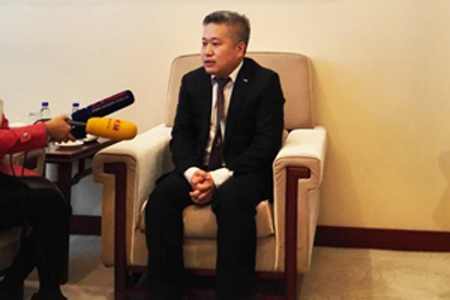 Wang Wei, deputy director of the administrative committee of the Tianjin High-tech Area, speaks during an interview in Tianjin on Oct 20, 2016. [Photo/chinadaily.com.cn]
China's northern port city Tianjin will join hands with Glasgow, the largest city in Scotland and the third-largest city in the UK, in new energy vehicle (NEV) development, said an official of Tianjin on Thursday.
The Tianjin High-tech Area signed a strategic cooperation agreement with the Allied Vehicles Group, the UK's leading supplier of adapted and special purpose vehicles, in NEV, according to Wang Wei, deputy director of the administrative committee of the high-tech zone.
The high-tech area has formed a complete NEV industrial chain over the years, said Wang. In the sector of battery, the most key technology for NEVs, a 6 billion ($889.7 million) yuan power battery project from Boston-Power, a world leading battery provider, is expected to settle in the high-tech zone soon, Wang revealed.
In the field of motor, the world's leading in-wheel motor producer Protean Electric plans to invest 450 million yuan in an in-wheel motor production line in the area, which is expected to have an annual output value of 1.2 billion yuan as it goes into operation, Wang said.
In terms of complete vehicle manufacturing, the high-tech zone has projects from automobile manufacturers such as Hawtai Motor Group, the National New Energy Vehicle Co and the China Hi-tech New Energy Automobile Co Ltd, he said.
Looking forward, the high-tech zone will expand the industrial chain based on its strength, with priority on shaping itself into an innovation center for NEVs and power batteries, said Wang.
The area will also strive to be a R&D and production center of NEVs with world leading technologies, he added.
The high-tech zone is expected to see investment in the NEV sector increase by nearly 80 billion yuan by 2020, with a total output of around 120 billion yuan.