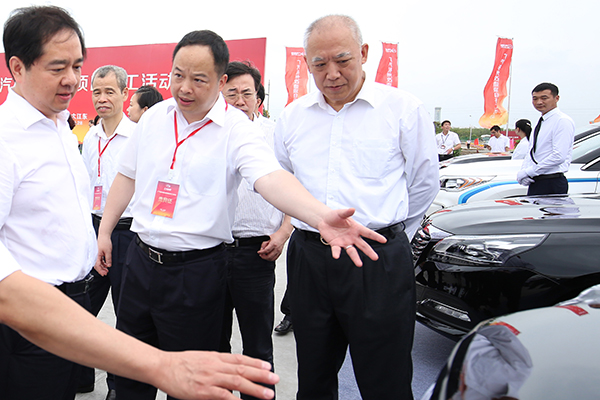 Yu Jun (center), general manager of GAC Motor Co, introduces car models to guests in Hangzhou, Zhejiang province, on Wednesday. [Photo provided to China Daily]
Guangzhou-based automaker GAC Motor Co Ltd on Wednesday began major renovations of its assembly plant in Hangzhou, capital of Zhejiang province, in a push to expand production capacity following substantial sales growth.
The upgrade comes after the company acquired GAC Gonow in April-a joint venture between Guangzhou Automobile Group Co and Zhejiang Gonow Holdings Group Co.
"The facilities in Hangzhou will help expand production capacity and boost our position in the fast-growing eastern China market, as we are gearing up to meet the growing domestic demand," said GAC Motor General Manager Yu Jun.
GAC Motor sold 219,000 units of its Trumpchi car brand in the first eight months of this year, a massive 151 percent year-on-year increase.
"After years of effort in research and development, the market demand for high-end homegrown vehicles has surpassed current production capacity," Yu said.
Vehicle sales in the Chinese market grew by a much more modest 11.4 percent year-on-year from January to August, according to the China Association of Automobile Manufacturers.
Yu said GAC Motor's Guangzhou facilities currently produce 400,000 vehicles annually, while its manufacturing line in the Xinjiang Uygur autonomous region, currently under construction, is designed to produce 100,000 units annually.
"Establishment of the Xinjiang facility will allow us to tap the far northwestern China market, while the Hangzhou project will help boost our presence in eastern China," Yu said.
GAC Motor's sales in eastern China grew 171 percent year-on-year to 39,000 units in the first eight months.
GAC Motor, which was established in 2008, will invest 3.75 billion yuan ($562.1 million) in the renovation of the Hangzhou project, with a designed annual production capacity of 200,000 vehicles, according to Yu.
The Hangzhou facilities will go into operation by October next year, while construction of its new Xinjiang assembly line, which will focus on production of medium and high-end SUVs and new-energy vehicles, began in August.
Hangzhou Deputy Mayor Ma Xiaohui said the GAC assembly facilities would help optimize the city's industrial structure.
"The new assembly line, based on GAC Motor's high-end research and development platform, will help develop a new growth engine for the local economy," Ma said.