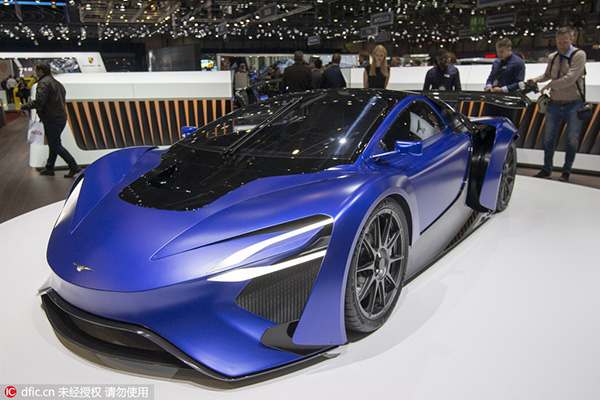 The new Techrules AT96 displays at the 86th International Motor Show in Geneva, Switzerland, also known as Geneva Motor Show, on March 2, 2016. [Photo/IC]
The first Chinese-made electric supercar is being showcased at the Geneva Motor Show from March 3 to March 13.
The car, designed and produced by a company called Techrules, has 1,000 horse power, can go from 0 to 60 mph in 3 seconds, and has a top speed of 220 mph.
Jin Xinzhong, founder of Techrules, says designers tackled the problem of range that currently limits electric vehicles. The total range is projected to be 150 kilometers.
"The range-extending electric vehicle can achieve 2,000 kilometers with 80 liters of fuel, which shows its efficiency. Its second advantage is that it is environmentally-friendly, as its emissions are multiple times lower than piston engine vehicles on the market today. The third thing is it provides a solution for the issue of charging electric cars, because the aero-engine installed in the vehicle can recharge anytime without the limitation of surroundings."
Jin Pu, a technical director at Techrules, says they plan to begin mass producing cars that carry the technology.
"It will take one or two years for our engines to begin mass production, which means in two years there will be small numbers of supercars going to the market. Meanwhile, we have started developing a mass-produced model, which means there will be a car like the Audi A8, or Tesla Model S on the market in five years."
The Chinese-made supercar was previously tested in London. It will continue to go through a series of tests.