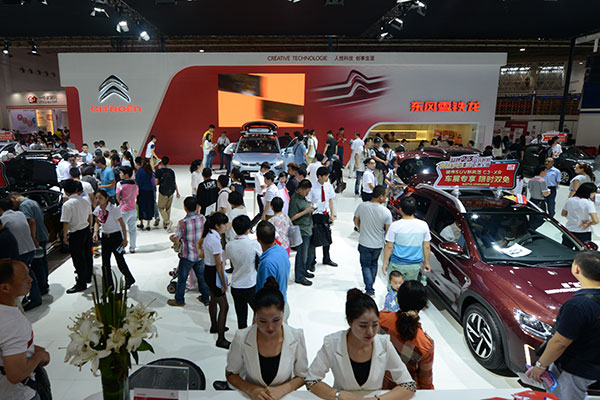 Dongfeng Citroen at an auto show in Wuhan, Hubei province. The company revealed ambitious targets to hit 1 million sales in China by 2017. [Photo provided to China Daily]
Dongfeng Peugeot Citroen Automobile reshuffled its management personnel after a series of rotations in May amid a drop in sales of Citroen branded cars in the first half of this year.
Dongfeng Peugeot Citroen International's executive general manager Wang Tao quit the auto group in July, months after he was promoted to the position from that of director of public relations at DPCA.
Dongfeng Citroen's brand management and PR director Qu Gang reportedly joined Dongfeng Renault this month in a middle management role with a sales and marketing function.
Several Dongfeng Peugeot and Dongfeng Citroen directors in marketing, brand management and sales roles also shuffled their positions within the Sino-French joint venture.
Dongfeng Citroen said the personnel changes were normal and will not have any negative influence on the company's performance.
Donfeng Citroen sold 147,731 vehicles in the first half of the year, a drop of 7.4 percent. Meanwhile Dongfeng Peugeot's sales rose 11.1 percent to 204,055 vehicles. As a result, DPCA's sales climbed 3.4 percent in the first half of the year, to 354,800 vehicles.
Zhu Kongyuan, secretary general of China Auto Dealers Chamber of Commerce said, "The Citroen brand has been short of new models in the first half of the year. It has only released one new model, the C3-XR, launched in December, in the first six months."
Dongfeng Citroen launched the new C4L this month, and the C4 Picasso in July. The division also plans to launch a new C5 on the Chinese market next month. The new Elysee is the most popular model having sold more than 46,000 units.
At the new C4L launch ceremony, Chen Xi, general manager of Dongfeng Citroen, said that the brand would open fire in the second half of this year. However, the achievements in the first half of the year contributed 42 percent of the annual target of 350,000 vehicles sales set at the start of the year.
Dongfeng Peugeot set a target of 450,000 vehicle sales this year, and has so far achieved 45 percent of this, with sales of the 2008 and 3008 SUV models surging 34 percent compared with the same period last year.
DPCA's set a target of 800,000 sales for this year and the group expects to hit 1 million sales by 2017, and 1.5 million by 2020, according to the company.
haoyan@chinadaily.com.cn