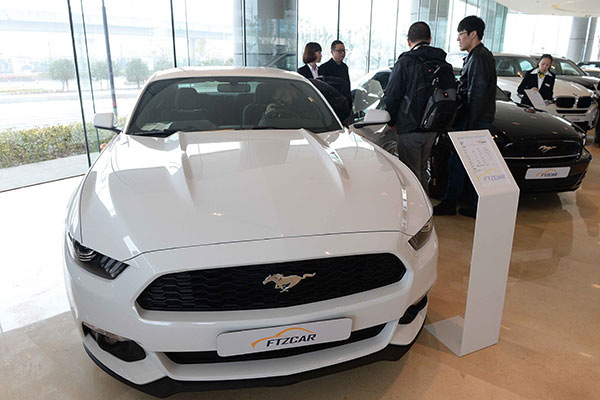 A transaction site for parallel import of cars at the China (Shanghai) Pilot Free Trade Zone. [Photo/China Daily]
China (Shanghai) Pilot Free Trade Zone's pilot program on parallel imports of cars, which allows dealers to purchase cars directly from abroad, has evoked good response and is likely to be extended to more areas, officials said on Monday.
The Ministry of Commerce gave the green light to 17 companies for parallel import of cars in February. Out of this, four have already signed vehicle trade contracts with consumers by the end of June. Till date, about 228 cars have got automatic import license approval under the parallel import scheme, according to the Shanghai Municipal Commission of Commerce.
Under parallel imports, cars are brought directly from overseas to bypass distributors and dealerships so that they can sell the same at discounts of 10 to 25 percent.
A Maserati Ghibli for example, is sold at around 980,000 yuan ($157,820) each at the FTZ's parallel-import car trading center while it is priced at 1.38 million yuan at an ordinary dealership outside the zone.
China Yongda Automobile Services Holdings Ltd is one of the 17 companies that has started the new business. According to Chen Jiaxiong, deputy director of Yongda's public relations department, parallel-import cars have been well received by the consumers. A road show featuring the companies' parallel-import cars was held on Saturday, promoting luxury cars like Porsche Cayenne, Range Rover and BMW X5.
Jian Danian, deputy director of the Shanghai Pudong New Area where the FTZ is located, said parallel-import cars account for a very small portion of the cars sold in the first six months of the year.
"The bonded supervision mode, car modification within the area, unified accounting, as well as China's compulsory certification for cars are all problems that need to be addressed," he said.
But the slow progress in parallel imports is something that has been factored in by the local authorities. According to Gu Jun, deputy director of the Shanghai Municipal Commission of Commerce, they expected parallel-import cars to exert some "catfish effect" on the entire Chinese car import market, so as to break some retailers' monopoly. As a result, combined with the decline in demand for imported cars beginning at the end of last year, prices of imported cars in China dropped by an average 11.8 percent in the first six months, according to data provided by Sinomach Automobile Co Ltd.
Meanwhile, Shanghai Waigaoqiao Automobile Exchange Market Co Ltd, which is in charge of the operation of FTZ's parallel-import cars, have ventured outside Shanghai to set up its first national flagship store in Hefei, Anhui province, on July 18.
The central government has extended full support for parallel import of cars. Authorities from the Ministry of Commerce said during a regular meeting of the State Council that they will accelerate the experiment of parallel-import cars.
Apart from Shanghai, other free trade zones in Shenzhen, Tianjin, Guangdong and Fujian are also planning to introduce parallel import of cars soon.