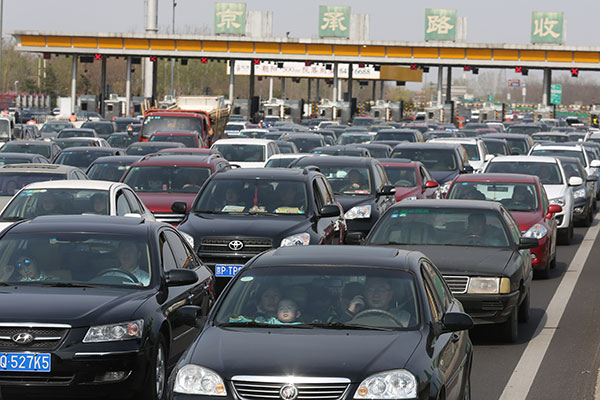 The Beijing-Chengde Expressway. Beijing wants to learn from the highway systems in Singapore and some European cities and begin charging congestion fees. [Photo/China Daily]
Beijing is mulling over levying congestion charges in a move to alleviate its traffic jams, according to Chinese media.
News portal Yiche.com reported that the capital city might soon charge vehicles on its roads to ease congestion, while current traffic-curbing measures would be rescinded.
There are around 5.6 million vehicles in Beijing and traffic jams have become part of daily life in the megacity.
To alleviate the problem, local authorities have put in place policies that include winning license plates through lotteries and barring vehicles from the roads on odd and even days depending on the last digit of their license plates.
There has been no comment from the city government. News about Beijing possibly levying congestion charges first emerged years ago.
Chen Tian, head of the city's environmental protection bureau, confirmed in April that such policies are under discussion but there is no timetable for their introduction.
Some experts said congestion charges are likely to be adopted in Beijing following precedents set overseas.
Singapore started charging congestion fees in 1975. Some European cities such as London have adopted similar policies to alleviate traffic jams.
Beijing-based auto analyst Zhang Zhiyong said levying a congestion charge is more reasonable than current measures, such as curbing car purchases.
"Curbing purchases is unfair and will affect such industries as auto manufacturing and even tourism. Congestion charges, on the other hand, will not affect anyone's right to purchase and could produce positive effects on people's car use," Zhang said.
Cui Dongshu, secretary-general of China's Passenger Car Association, prefers congestion charges to the measure of making license plates available through lotteries that is used in Beijing and several other cities in the country.
Curbing purchases is a lazy policy that limits customers' rights, China Youth Daily quoted Cui as saying.
It means luck decides who is allowed to own and use a car, while the unlucky are forced to use public transport, Cui said.
He said more than 3 million people in Beijing take part in the license plate lottery and some young people urge their parents to join also to increase the family's possibility of winning.
"The lottery thing is sure to change and the most practical alternative is to charge congestion fees," Cui was quoted as saying.
However, analyst Zhang said although a congestion charge is likely, it would not replace the lottery policy, with one reason being that ending the lottery could affect sales of the new-energy cars the government is promoting.
China has made the new-energy car industry a priority and is planning to have 5 million such cars on the road by 2020.
Beijing has a separate lottery system for pure electric cars and plug-in hybrids to stimulate their sales, with much more likelihood of winning a license for a new-energy car than for a gas-powered vehicle.
Other experts said the government should weigh the many different options and make the best decision. In late May, Beijing's deputy mayor Zhang Yankun suggested that those who do not have parking lots in the city might not be allowed to buy cars.